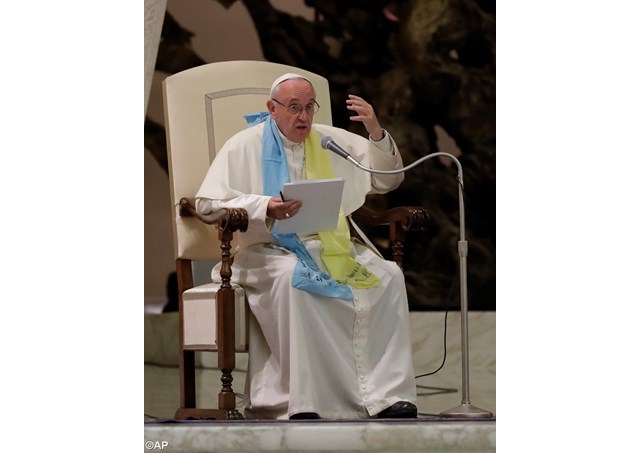 (Vatican Radio) In an interview released ahead of his visit to Sweden to mark a joint Catholic-Lutheran commemoration of the Reformation, Pope Francis urges Catholics and Lutherans to overcome fears and grow closer to each other. The Pope is spending 26 hours in the southern Swedish cities of Lund and Malmo, where on Monday he presided with Lutheran leaders at a prayer service and later an event featuring personal testimonies of service to those most in need.
In an interview with Swedish Jesuit Father Ulf Jonsson, published on Friday in the Civiltà Cattolica magazine, the Pope shares his hopes for the outcome of the trip, saying he wants to encourage a culture of closer encounter. He talks about his deep friendships with Lutherans back in his native Argentina and says that Catholics can deepen their understanding of reform and of Scripture by learning from the Lutheran tradition.
Theological dialogue, the Pope says, is important but so is working together to help the sick, the poor and the imprisoned. Proselytism, he stresses, is a sin, and Christians must learn to grow together through common prayer, education and shared works of mercy.
Pope Francis also talks about the 'ecumenism of blood' in places where Christians of different backgrounds are persecuted and killed together. Waging war in the name of religion, he says, is blasphemy and satanic, describing the man who murdered 84 people in the French city of Nice as "mad" and "deranged".
Finally the Pope urges Catholics to live their faith in an open and ecumenical spirit, reminding them that others will be drawn to God more through the  way they behave than through the words they use. Don't remain closed in rigid perspectives, he concludes, because in these there is no possibility of reform. 
As head of the Pontifical Council for Promoting Christian Unity, Cardinal Kurt Koch was accompanying the Pope on his two day visit to Sweden. He says the common commemoration of the Reformation is an important step on the path towards full communion….
The cardinal stresses that it's the first time in history that Catholics and Lutherans are commemorating the beginning of the Reformation together.
In the past, there were confessional events that, he says, were sometimes polemical and triumphalist, but today the fact that the president and general secretary of the Lutheran World Federation, together with Pope Francis are presiding at the liturgy in Lund "seems to me a very beautiful sign".
The visit is not only commemorating 500 years since the beginning of the Reformation, he says, but also "50 years of intensive theological dialogue" during which Lutherans and Catholics have discovered "what is common between the two Churches".  While we can celebrate this with gratitude, the cardinal adds, "I hope this event will be a good path for the future" as we move from the conflicts of the past towards full communion between Lutherans and Catholics.