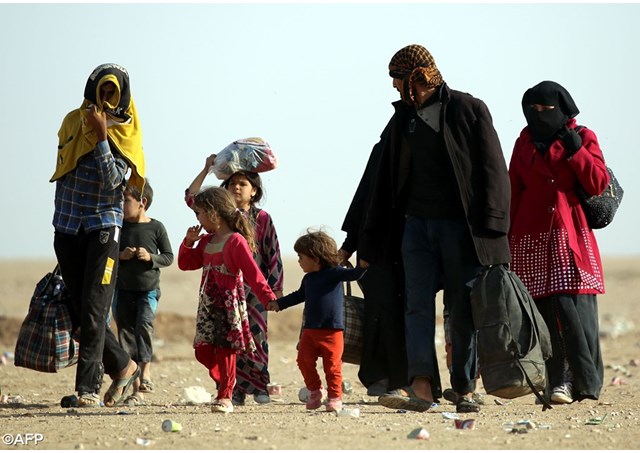 (Vatican Radio) The response of Christians to refugees, migrants and internally displaced people will be at the heart of the historic ecumenical events taking place in Sweden on Monday to mark the forthcoming 500th anniversary of the Reformation.
Pope Francis and the leaders of the Lutheran World Federation will preside at a joint prayer service in Lund cathedral, before travelling together to the nearby city of Malmö for an event spearheaded by Caritas Internationalis and the LWF's charitable arm, its World Service department.
The event in Malmö's main sports arena will feature personal testimonies from refugees and those working for human rights in India, South Sudan, Burundi, Colombia and Syria. To underline the importance of working together for the common good, the heads of Caritas and the World Service will sign a declaration of intent for closer cooperation and shared witness to the world. 
Maria Immonen  heads the LWF's Department for World Service which works with local and international partners in over 30 countries worldwide. She talked to Philippa Hitchen about its role and about the importance of these ecumenical events….
The LWF's World Service was set up in response to the refugee crisis in the aftermath of World War II, Maria says, so "refugees and internally displaced people have always formed the key and core population group whom LWF works with". Overtime, she says, that has expanded into working with other suffering the results of natural or manmade disasters, as well as moving into long term development programmes.
Reaching people at grass roots
Maria notes that ecumenical cooperation is important in the work "to reach as many people as you can", especially the most vulnerable, and faith based communities, she says, are always central to that task because "they reach the grass roots better than any other existing organisation on the planet". Ecumenism is also important, she continues, because we can share goals, methodologies and motivation as we seek to put people and human dignity at centre of our work.
Joint Declaration of Intent
One good example of Catholic-Lutheran cooperation, which will be highlighted at the Malmö event, Maria says, is the work Caritas and World Service are doing in Colombia, "protecting human rights defenders and involving remote communities in the peace process in Colombia". The Declaration of Intent that the two organisations will sign is "precisely to make it more systematic, that we always do look at what each party is doing and try to find ways of combining our strengths and reaching more people" in need, she says.
Christian voice in secular context
Asked about the importance of the work of Caritas and the World Service in the secular, or 'post-Christian' context of Sweden and the Nordic countries, Maria says, it is "easy from a Christian faith background to understand why we want to work with the poorest of poor, for open and welcoming communities" By joining voices on the care of creation, or human rights and justice, she says, the better we will be able to work together and articulate those core messages.
See Christ in suffering people
Asked about her hopes for the Malmö event, Maria says that, at one level for Caritas and the LWF, "the commitment we're very publically setting ourselves up for[…..] will have very practical implications on how we do our programming" in the years to come. But, she adds, as we move "from the church building [in Lund] to a very secular environment" of Malmö's ice hockey arena to focus on refugees, people on the move, "I think it's a very powerful message that the Church is for the world". She says Christians have been given the task, as Churches and as individuals, "to make a difference  to people who are in very, very difficult circumstances and to see Christ in those suffering people, and to address his or her needs... with care and compassion and concern for humanity".