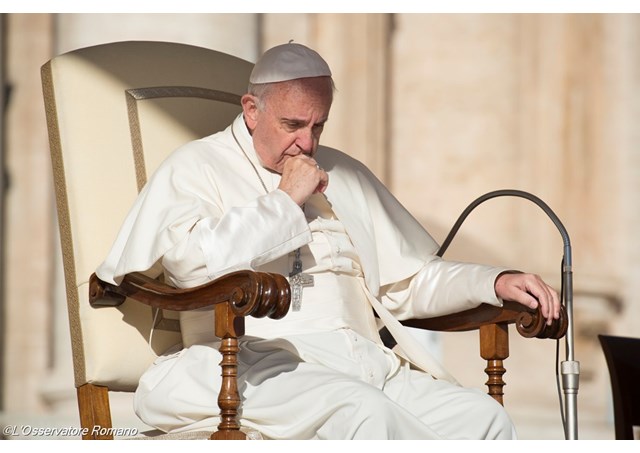 (Vatican Radio) Tens of thousands of people showed up on cool but beautiful Saturday morning for the Pope's monthly Jubilee audience.
Listen to Christopher Wells' report:
In his catechesis, Pope Francis used the Gospel account of Jesus' encounter with the Samaritan woman to reflect on the importance of "dialogue" as an aspect of mercy.
"Dialogue," the Pope said, "allows people to know themselves and to understand the one another's needs." It is both a sign of respect, an expression of charity; it allows us to see one another as a gift from God.
But often when we encounter one another, we are not prepared to listen, preferring instead to interrupt and convince the other that we are right. True dialogue, the Pope said, requires moments of silence, and the ability to welcome the other as a gift from God.
"Dear brothers and sisters," the Pope said, "dialoguing helps people to humanize relationships and to overcome misunderstandings." He continued, "There is a great need for dialogue in our families, and how much more easily would questions be resolved if we could learn to listen to one another!"

The Holy Father concluded his catechesis, saying, "Dialogue breaks down the walls of divisions and misunderstandings; it creates bridges of communication and does not allow anyone to remain isolated, closing themselves into their own little world." How much better the world will be, he said, if we could listen to one another, explain ourselves meekly, rather than shouting at one another. "Through dialogue, we can make the signs of the mercy of God grow, and make them instruments of welcome and respect."