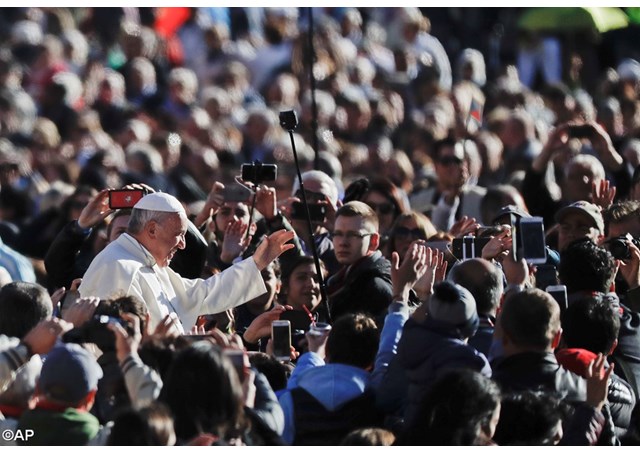 (Vatican Radio) Pope Francis on Friday told participants at an international conference on vocations that faith cannot be reduced to a set of rules and regulations, but, instead, must be a way of life which inspires others to discover the joy of the Gospel message.
The Pope's words came as he met with a large group of cardinals, bishops, priests and religious attending a Rome conference entitled with the Latin words which describe Jesus' calling of St. Matthew: 'Miserando atque eligendo' or 'having mercy and choosing' him.
Pope Francis recalled that he chose those same words for his own bishop's motto as a reminder of how clearly he felt the Lord calling in his own life as a young man. The question of vocations, he told participants, must never be reduced to mere pastoral planning or human calculations, but must rather be about learning to imitate the way Jesus lived, talked and showed God's mercy to those around him.
Church on the move
The Pope said this way of life that Jesus exemplified can be summarized by the three verbs: to go out, to see and to call. Firstly, he insisted, the Church must always be going out, on the move, broadening its horizons, rather than being hemmed in by the fear of failure. There will never be a fruitful harvest of vocations, he said, if Church leaders cannot boldly and creatively redefine their goals, structures, styles and methods of evangelization.
Seeing through Jesus' eyes
Secondly, Pope Francis said, pastors must learn to see the way Jesus saw the people of his day, defying popular prejudices and creating space for others to feel God's love in their lives. The Church and the world needs mature and well-balanced priests, he stressed, who are intrepid and generous in discerning and accompanying people without seeking to control their consciences.
Calling and questioning
Finally the Pope said that pastors must learn to imitate Jesus' way of calling people, not through proselytism, long lectures or pre-packaged answers but, rather, by inviting others to ask the right questions and to follow where Jesus is leading them.