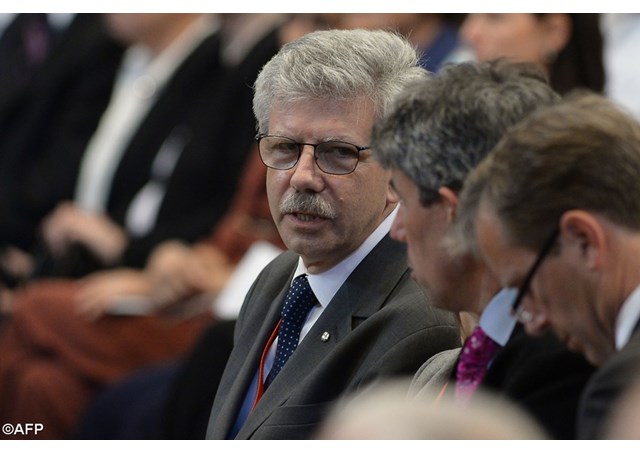 (Vatican Radio) Caritas Internationalis and the Lutheran World Federation's charitable arm are jointly preparing a key event in Sweden's Malmö arena as part of the October 31st anniversary of the Reformation.
Pope Francis and Lutheran leaders are together hosting a day of ecumenical events in Sweden to kick off the 500th anniversary commemorations of the Reformation and to celebrate the progress that has been made in Catholic-Lutheran relations over the past half century.
Following a joint prayer liturgy in Lund cathedral, the pope and the Lutheran leaders will travel to Malmö for a celebration of the witness that Catholics and Lutherans are giving together, working for justice and peace in countries around the world.
To find out more about this unprecedented initiative, Philippa Hitchen spoke to the secretary general of Caritas Internationalis Michel Roy…
Roy says the initiative originates with the Catholic and Lutheran Churches, which want to show that after so many decades of "doctrinal theological discussions", there is a move to "concrete action together to show that we are united". While unity is a strong word, he says, it's clear that Pope Francis has "a vision of unity" which follows this same goal.
Response to Colombia's peace process
While this is an "opportunity to speed up" cooperation, Michel Roy says that Catholic and Lutheran communities already work together in many places providing emergency responses, welcoming refugees or promoting peace and reconciliation. One good example which will be showcased in Malmö, he says, is the peace process in Colombia, which has been promoted by Caritas Colombia together with the Lutheran World Federation's World Service.
Declaration of Intent
During the Malmö event, he says, the leadership of Caritas Internationalis and the World Service will sign a Declaration of Intent to show that "we will go beyond and seize every opportunity of moving together". While the two organisations are different in structure, this declaration aims to inspire and encourage people to work closer together to recover and promote human dignity, he says.
Key role of faith groups
Part of the inspiration for this stepped-up cooperation comes from Pope Francis "who is breaking all the barriers" and "rebuilding links" with Christians and other faith leaders, Roy explains.  At the same time, he notes, "there is a strong call from the United Nations" and other organisations like the World Bank who "see the plus that we bring, as compared to simple civil society organisations". The international community, he adds, is increasingly recognizing that where faith groups are organizing "at village level", there is greater "leverage for the real fight against extreme poverty".
Pray for peace in Syria
Finally Roy talks about the funds that will be raised by the sale of the tickets in Malmö arena, all of which will go towards supporting victims of the Syria conflict. The Caritas Syria programme, based in Aleppo, provides educational support for children there, while the Lutheran project helps Syrian refugees in neighbouring countries. Caritas Syria president, Bishop Antoine Audo, will be speaking at the Malmö event and participants will together pray the prayer that Caritas Syria has shared through the #peaceispossible campaign. Roy says "We believe in the power of prayer in such dire times and so we invite everyone to pray this prayer that you can find on the website dedicated to this campaign: syria.caritas.org