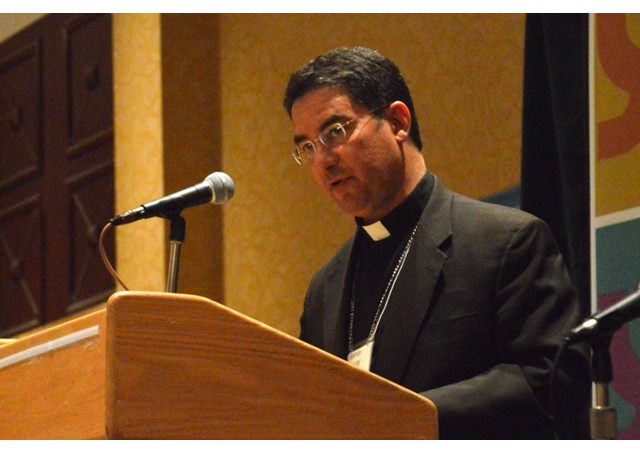 (Vatican Radio) The Jubilee of Mercy is now in its closing weeks, so as the 20th of November draws ever closer Vatican Radio is looking at how it's being celebrated around the world. The US diocese of Las Cruces in New Mexico is on the border with Mexico and like many dioceses has been actively promoting the spiritual and corporal works of mercy, a focal point of this Holy Year.
To hear more about the initiatives taking place and how it's helped reinvigorate the works of mercy, Lydia O'Kane spoke to Bishop of the diocese Oscar Cantú.
"I think it's been a wonderful year and a wonderful opportunity to reflect on the reality of God's mercy," he said. "On an individual level it has caused our parishioners to reflect on how they practice the works of mercy."
One of the initiatives the diocese has been promoting is the care of the children of the diocese which has a high level of poverty.  Bishop Cantú explained that the diocese has been putting much emphasis on families and partnered with institutions such as the Catholic University of America, they have been reaching out to strengthen families and provide outreach for the well-being of the children of Las Cruces so that their own futures may be brighter.
Migration
Another issue facing the diocese, which is on the border with Mexico, is the issue of migration and giving an example of mercy at work, the Bishop said that two years ago when they had the surge of unaccompanied minors coming from Central America, he saw at first hand the generosity of the community. He added, "we were able to open up our Cathedral to shelter, to clothe and to feed these poor souls who were traumatized by their journey and the violence they had witnessed in their home country… and it was beautiful to see on both sides to see people comforted by my fellow Christians here locally…"
The Holy Door
The Holy Door has been one of the main centre pieces of this Jubilee Year and Bishop Cantú said having Holy Doors around the world and in his own diocese has been so important. He explained, "most of our people for economic reasons are not able to travel outside the country, but also for some legal reasons are not able to cross the diocese itself so that allowed some opportunity for people to visit and to walk through the Holy Doors and to benefit from those beautiful graces of the Holy Year."
The Extraordinary Holy Year of Mercy ends on 20th November, the feast of Christ the King.