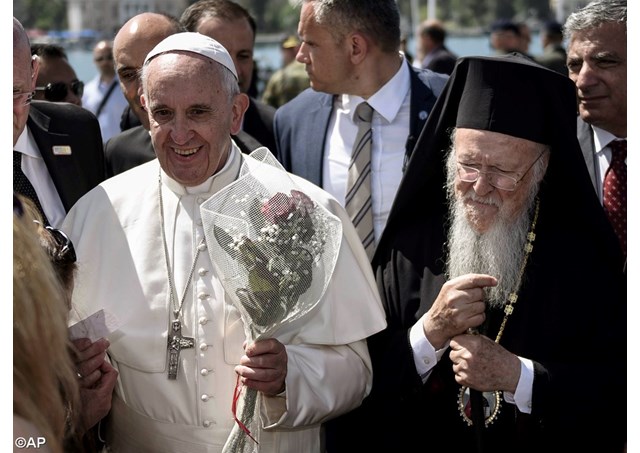 (Vatican Radio) Pope Francis has written the preface to the book "Bartholomew: Apostle and Visionary," published by the U.S.-based Thomas Nelson. The book is being published to mark the 25th anniversary of the election of the Ecumenical Patriarch, who is the "first among equals" of the Orthodox Church.
Pope emeritus Benedict XVI also contributed a chapter to the volume.
The October 12 edition of L'Osservatore Romano, the Vatican newspaper, had the texts written by Pope Francis (available here) and Pope emeritus Benedict XVI (available here) in their entirety.
"The Church of Rome and the Church of Constantinople are united by a profound and long-standing bond, which not even centuries of silence and misunderstanding have been able to sever," – Pope Francis wrote – "This bond is exemplified by the relationship between those to whom tradition attributes the foundation of our respective Churches, namely, the holy apostles Peter and Andrew, two brothers in the flesh, but above all, two disciples of the Lord Jesus, who together believed in him, followed him, and ultimately shared his destiny on the cross, in the one and same hope of serving the coming of his kingdom.
Pope emeritus Benedict XVI began his reflection by remembering his "first close personal contact with the Ecumenical Patriarch" on the train to the  2002 World Meeting of Prayer in Assisi hosted by Saint John Paul II.
"I was also immediately moved by the personal openness and warmth of the patriarch," – the Pope emeritus said – " It required no great effort for us to become close to one another. His inner openness and simplicity immediately brought with it comfortable intimacy."
Pope emeritus Benedict XVI said this first meeting give him a picture of the entire personality of the ecumenical patriarch: "living on the road toward a goal; living in the many dimensions of the great cultures; living in encounter, borne by the fundamental encounter with the truth that is Jesus Christ. In the end, the goal in all of these encounters is unity in Jesus Christ."
The anniversary of the election of Patriarch Bartholomew I will occur on November 2.