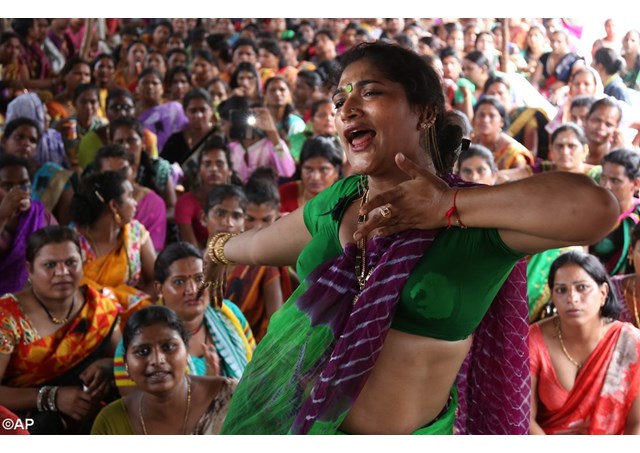 Caritas India, an official agency of the Catholic Church, has decided to fight against an openly discriminatory mentality, announcing the launch of a programme for the assistance and social promotion of transgender people. The Catholic Church's social service wing has confirmed the decision in a statement on Monday, Oct. 10 after holding internal talks on its inclusive development policy.
"Caritas is open to work with transgender people. I am even open to recruiting them," said Fr Frederick D'Souza, executive director of Caritas India, during the meeting. Referring to the initiative as the "beginning of a new school of thought," and explaining: "People who are suffering for no fault of their own because of sexual confusion in their body require our attention and support."
With this programme, Caritas hopes to eradicate "traditional biases against them," in the awareness that this "decision will definitely have implications on other institutions. Others will also begin to reflect on this". Hopefully this attention will set an example for society. 
Fr D'Souza however clarified that by transgender he means "biological transgenders" and not those who undergo gender change. "We don't want to confuse the two. We have an opinion on those who undergo sex change, we are not in favour of that. We believe that the natural gender one is born with is what he/she is supposed to cherish and contribute to creation."
Father Paul Moonjely, deputy director of Caritas India, said that the decision to include transgender people in Caritas is not sudden. "We have been reaching out to transgender people in our development programs but have largely failed to recognize them and show data on how many of them we have supported," he said.
This programme is very likely to have a "ripple effect": Founded in 1962, Caritas India is recognised and appreciated as a leader in the social field, actively working with programmes that focus on humanitarian aid, social development, reconstruction, poverty reduction, sustainable development, education and the social promotion of women and poor, vulnerable and marginalised groups.
India has nearly 500,000 transgender people, according to the 2011 government census. They have been excluded from participating in social and cultural life, economy and politics, according to a 2012 United Nations Development Program report.
Not included in any form of census or government mapping, they are often a hidden population, most vulnerable because they are treated as invisible and deprived of the fundamental rights available to the other two sexes.
They are one of these groups as they have traditionally been an unpopular minority in India and all countries across the Indian sub-continent: they are often seen roaming around asking for money or prostituting themselves. They are only summoned during the blessing of newlyweds and new-born babies as there is an ancient tradition that considers them to be bearers of good fortune.
Known as hijras, the transgender community were once a firmly accepted group in Indian culture. The Vedas, the oldest scriptures of Hinduism, recognize them with both male and female characteristics. During the Mughal period, they played an important role in the court administration and as royal guards.
However, their revered place in history drastically changed in the British colonial period and they were legally relegated to the margins of society, with limited access to healthcare, employment or education.
But, legally, 2014 marked a turning point in India: The Supreme Court acknowledged the status of a 'third gender' and ruled that transgender people are to officially enjoy the same rights as other citizens, helping to temper hostilities and widespread prejudice, granting them equal social rights: they can marry, inherit and have access to public institution jobs and educational institutions.
The federal government is currently planning a law to protect the rights of transgender people. The draft law was introduced into the lower house of the Indian parliament in August.
Odisha state become the first state to provide transgender people subsidized food grains, housing and pensions to improve their overall social and economic status.
"Much needs to be done towards sensitization on the issue even within the Caritas network," Father Moonjely said.
(Source: UCANews, Matters India, Vatican Insider)