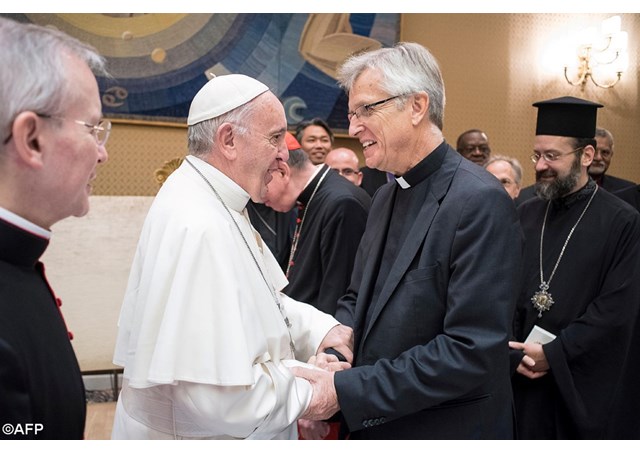 (Vatican Radio) Pope Francis said Christians are already united when they are persecuted by terrorists or world powers in what he called an ecumenism of the "blood." He was speaking in an off-the-cuff address on Wednesday to participants at the Conference for Secretaries of the Christian World Communions, an international ecumenical organization. 
The Pope began his remarks by noting that ecumenism is about journeying alongside others with Christ: it can be a simple journey together, done with prayers and helping others or it can be "a working ecumenism for the many men and women who nowadays suffer injustices, wars." He urged his listeners to show charity towards their neighbours, saying this is ecumenism, being united on our journey with Jesus.
Pope Francis also spoke about how it is necessary to recognize a particular type of ecumenism that especially applies to our present world, a so-called ecumenism of the "blood" whereby all Christians regardless of their denomination are viewed and treated in the same way by those who persecute them. 
"When terrorists or world powers persecute Christian minorities or Christians, when they do this, they don't ask: 'But are you Lutheran?  Are you Orthodox? Are you Catholic? Are you a Reformed Christian? Are you a Pentecostal?'  No! 'You are a Christian!' They only recognize one of them: the Christian. The enemy never makes a mistake and knows very well how to recognize where Jesus is. This is ecumenism of the blood."  
The Pope said Coptic Orthodox friars murdered on the beaches of Libya are "our brothers" as they too gave witness to Jesus in their lives and when they met their death.