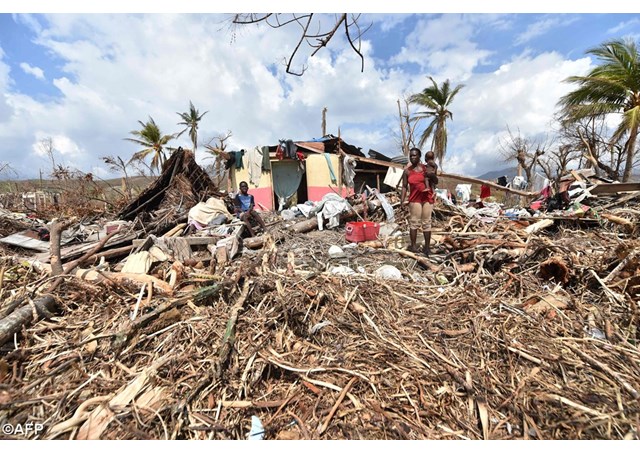 (Vatican Radio) In Haiti, survivors of Hurricane Matthew are mourning the victims as fears of an increase in cholera cases grow. This category four storm tore through Haiti with 230 kph winds and one meter of rain, leaving widespread devastation and severe flooding.
Hurricane Matthew is believed to have killed as many as 900 people in the Caribbean country. At least 18 people died in the United States as the hurricane made its way north.
Pope Francis on Sunday asked for prayers for the victims and said he is "confident in the sense of solidarity of the international community, of Catholic institutions and people of good will" in bringing relief.
One humanitarian organization in Haiti is Malteser International, the worldwide humanitarian relief agency of the Sovereign Order of Malta. The organization has mobilized their staff on the ground to aid the people in the affected areas.
Malteser International has been working in Haiti since the crippling earthquake in 2010. It is committed both in the initial emergency relief response and in long-term development work. They work to strengthen civil society actors, make sustainable improvements to water, sanitation, and hygiene structures; as well as to raise disaster preparedness, and improve the standard of nutrition amongst the population.
Timo Nikolaus, Program Administrator for Latin America and Caribbean of Malteser International, spoke with Vatican Radio's Hayley Susino about how the emergency now is sanitation. 
Even before Hurricane Matthew struck, the conditions in Haiti were critical. Nikolaus explained conditions in Malteser International's project area of Belle Anse: 
"It is a rural area in the south east of the country where there are mostly self sufficient small farmers dependent on good weather conditions for their agriculture. For the last two years the country was struck by a severe drought, which led to critical state of food security." 
The people in areas such as Belle Anse, Jeremie, and Les Cayes were already vulnerable due to poor conditions. The hurricane left them with no sense of food security.
Because of severe flooding, the hygienic situation is also critical. Nikolaus said that, "there may be a new break out of diarrheal diseases, like cholera which is now a big threat to the people there."
Malteser International has another project area in the capital city of Port au Prince. They have been in the slum of Cité Soleil for the past five years, where more than half a million people have been affected by the hurricane. 
Nikolaus explained why the area is so vulnerable; "It is due to the high population density and the geographical position, which is just next to the sea. They were affected by the heavy rains and flooding which came with Matthew. This led to destruction of infrastructure. There are sewage channels which were flooded, so all of the garbage and human feces are all over the area. There is a high risk there of infection and diarrheal diseases like cholera."
After the devastating earthquake in 2010, Malteser International began the cleanup and reconstruction of Haiti. They have worked closely with Disaster Risk Reduction (DRR): "We work together with local civil protection and local schools to set up systems of early warnings and to help the communities be better prepared in case of an emergency."
Nikolaus says that the focus now is quick intervention; "If we are not active now cholera can spread and cause many people to become ill. People are especially vulnerable and are lacking food." Those affected by the hurricane are dependent on various relief organizations, so it is important to go there and distribute hygiene kits, food, and water. 
"Right now we are sending emergency coordinators to Haiti, who will be in charge of introducing measures of distribution," said Nikolaus. He explained there was damage to infrastructures built by Malteser International, but there will be plans to rehabilitate the damages.