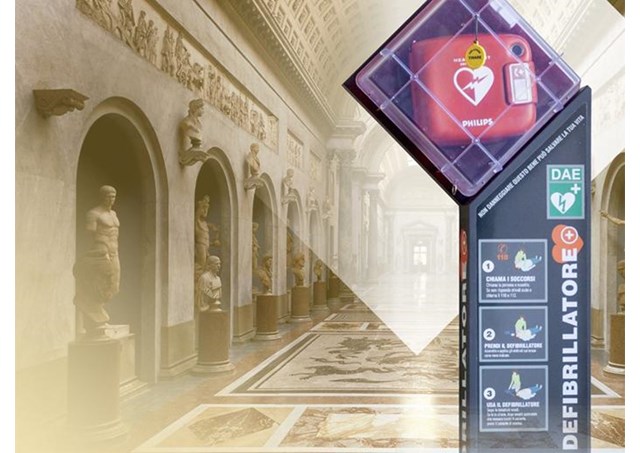 (Vatican Radio) The Vatican Museums has installed 18 automated external defibrillators (AEDs) and trained 300 staff in their use to become the first museum in Italy to be "Heart Friendly," in order to provide greater protection to the 6 million people who visit the Museums every year.
The programme – explained on Wednesday – was created in collaboration with the Vatican-owned Bambino Gesù Paediatric Hospital and the Department of Health and Welfare of the Governorate of Vatican City State, with training supervised by the American Heart Association.
"For us, it is an honour and a duty to make available to the Vatican Museums our years of expertise to help protect the lives of the thousands of people who each day admire the masterpieces preserved in this place," said Mariella Enoc, the President of the Bambino Gesù.
This video from the Bambino Gesù Paediatric Hospital demonstrates the use of the AED in the Vatican Museums
The AED is a computerized medical device which can check a person's heart rhythm, and recognize if it is a rhythm that requires an electric shock to stabilize. The AED uses voice prompts, lights and text messages to assist the rescuer in determining what steps to take.
The AEDs in the Vatican Museums will allow staff to intervene quickly if someone has a heart attack, since each additional minute without an intervention decreases the change of survival by 6-10%. This will minimize the risk of a person dying while waiting for the arrival of an ambulance to take them to the hospital.
Although the devices have become more common in public facilities in the United States, they are not frequently seen in Italy.
"It is our obligation to provide the best standards of safety in the Museums," said Antonio Paolucci, the Director of the Vatican Museums.
"Those who come to see the Museum collections of the Pope should know that it is a monitored and safe place, where even a cardiac crisis is tended to as soon as possible, and with the best technical equipment available," Paolucci added.