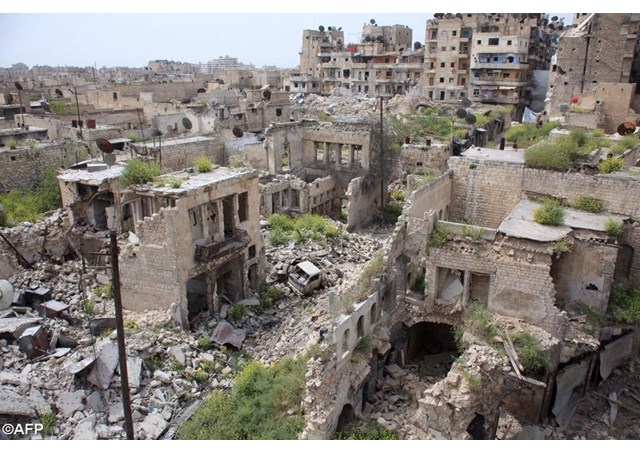 (Vatican Radio) Children across Syria have signed a petition calling for peace in their homeland that will be delivered to the EU headquarters in Brussels and the United Nations headquarters in Geneva. Called "Peace for Syria," the petition has been signed by young Catholics and Orthodox Christians from 6 Syrian cities and will be delivered to the EU and the UN buildings by three Patriarchs.
Aleppo divided into 2 halves like a new Berlin
Meanwhile, daily life in the fiercely contested Syrian city of Aleppo becomes worse by the day. In an interview with Vatican Radio, the Maronite Archbishop of Aleppo, Joseph Tobji said nowhere is safe in the war-torn Syrian city which he called a "new Berlin"  on account of being divided into two opposing halves. The archbishop described how the residents of Aleppo are living with death on a daily basis as a result of the frequent bombardments and shelling, saying they celebrate at least 10 funerals every day for those killed by the fighting.
Asked about the war and those responsible, Archbishop Tobji said he believed the conflict in Syria serves the economic interests of the West and that the great powers "see the country as a pie" to be sliced up for their benefit. He said the people of Syria wish to be free to resolve their problems, saying "we are not like pawns on a chessboard" to be moved here and there. 
Pope's eyes filled with tears
Turning to his meeting with Pope Francis in recent days, Archbishop Tobji spoke of how he showed the Pope a Syrian flag signed by one thousand young Syrian Catholics who attended a local youth day event in Aleppo along with a photo album of their friends: children who have been killed during the war. The Maronite archbishop described how the Pope turned over the first page of the album, saw the photo, then saw the photos on the second and the third page, at which point, "his eyes filled with tears."  "I too wept," confided Archbishop Tobji and "the cardinal who was standing by my side."