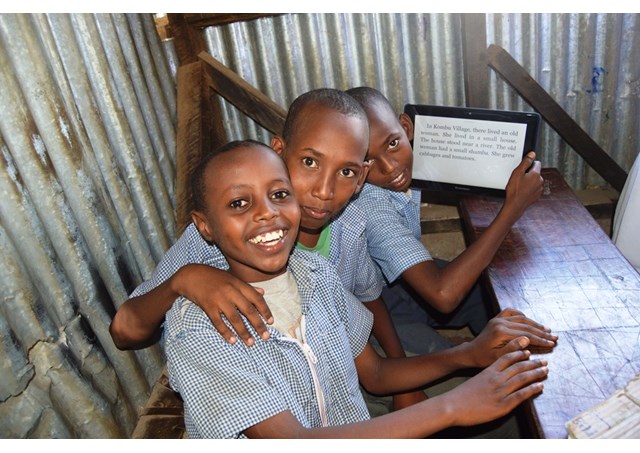 As Pope Francis met with the directors of the Vodafone Foundation Wednesday, in a private audience, he gave a thumbs-up to the group's initiative - Instant Schools For Africa. Pope Francis, however, encouraged Vodafone to consider offering Africa "digital access to the sacred texts of various religions" in local languages.
 "I really like what I've heard [about this project] – it's constructive – and nowadays there is a need to be constructive, to do things which promote human advancement..." said Pope Francis.
What exactly is the Vodafone Instant schools for Africa initiative?
According to Vodafone, this is the  group's largest philanthropic programme in the Foundation's 25-year history. The Instant Schools For Africa initiative aims at providing millions of young people in the Democratic Republic of Congo, Ghana, Kenya, Lesotho, Mozambique and Tanzania with free access to online learning materials developed in conjunction with Learning Equality, - a leading not-for-profit provider of open-source educational technology solutions - and with education partners, ministries of education and local education experts in each country. A similar initiative was launched by Vodafone's South African subsidiary Vodacom which worked with the Department of Basic Education to develop a free education portal – Vodacom e-school - that supports the national curriculum.
The educational resources provided under the Instant Schools For Africa programme will include subjects such as maths and science, providing millions of children and young people in seven countries with access to educational materials - from primary through to advanced high school level - comparable in quality, range and depth to those available in schools in the developed world. The materials – curated to align with local standards – will also include content designed for children who do not benefit from traditional schooling: UNESCO research found that 59 million children aged six to 11 were out of school in 2013, with 30 million of those children living in Sub-Saharan Africa.
Conventional teaching materials such as textbooks, reference books, past examination papers, assessment worksheets and classroom aids are prohibitively expensive for many African schools. Digital learning materials provided via mobile networks - with basic tablets for pupils and a laptop and projector for educators - offer a cost-effective alternative and can be updated instantly to ensure pupils receive the very latest information and insights in the classroom and at home.
Children, young people, educators and others who are customers of Vodafone or its African subsidiaries will not incur any mobile data charges when accessing the Instant Schools for Africa educational resources. The Vodafone Foundation and Vodafone will engage with the other major mobile operators in the countries involved to encourage other providers to adopt a similar non-commercial approach in order to stimulate widespread adoption of what, for many young people, will be life-enhancing opportunities to learn and gain new skills.
The Instant Schools For Africa programme represents a significant expansion of the Vodafone Foundation's ongoing mission to use digital and mobile technologies to bring critical educational resources to the people who need them most. In March 2015, the Vodafone Foundation announced the creation of the Instant Classroom 'digital school in a box' - a portable case containing equipment to enable tablet-based teaching in schools where electricity and internet connectivity are unreliable or non-existent. The Instant Classroom is being deployed in partnership with the United Nations High Commissioner for Refugees' (UNHCR) Innovation and Education units to schools in refugee settlements in Kenya, Tanzania and the Democratic Republic of Congo. It is estimated that the Vodafone Foundation's work in refugee settlements will benefit at least 62,000 children and young people by the end of 2016 and the Foundation is targeting up to three million children and young people in refugee settlements by 2020.
Vodafone Foundation Director Andrew Dunnett, said: "Education is a powerful antidote to poverty. Children and young people in some of the poorest countries on earth are desperate to learn but parents, teachers and other educators often lack both means and materials to teach them. Mobile and digital changes everything. Instant Schools For Africa programme will put a wide range of advanced learning materials - tailored for each local language and culture – into classrooms everywhere, from city slums to remote villages. Vodafone believes Instant Schools For Africa could transform the life chances for very large numbers of young people."
(Vodafone Foundation)