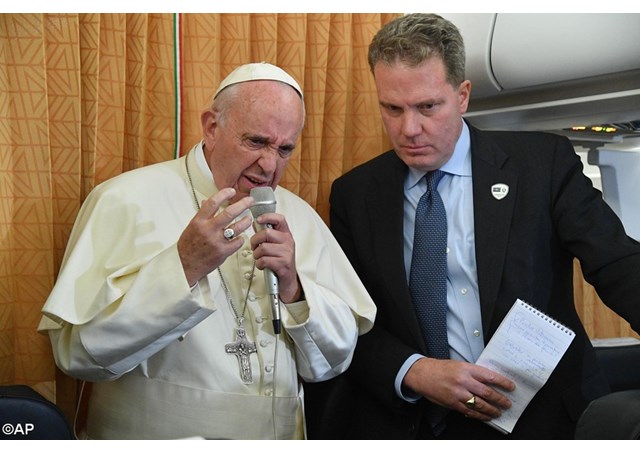 (Vatican Radio) Pope Francis returned to Rome late Sunday evening, after an intense weekend pilgrimage to Georgia and Azerbaijan in the Caucasus region. The Holy Father spoke with reporters traveling with him on his return flight, during which he offered reflections on a wide range of themes including marriage and divorce, homosexuality, and gender identity – further to his reflections offered on the same during the course of his whirlwind weekend visit.
Listen to Chris Altieri's report: 
Catholic News Agency has prepared a full transcript of the in-flight press conference, available here.
Responding to a question from Georgia's public broadcaster, Ketevan Kardava, Pope Francis offered his own overview of his visit there. "I had two surprises in Georgia," he said. "One, Georgia: I've never imagined so much culture, so much faith, so much Christianity…It is a believing people and an ancient Christian culture! A people of so many martyrs. I discovered something that I didn't know: the breadth of the Georgian faith. The second surprise was the patriarch: he is a man of God. This man has moved me. I many times have found that I left with the heart and moved and full of the sensitivity of having found a man of God, truly a man of God."
Pope Francis went on to discuss his appreciation for practical ecumenism, saying, "On the things that unite us and separate us, I say: don't make us discuss things of doctrine, leave this to the theologians. They know better than we do. They discuss, and if they are good, they are good, they have good will, the theologians on one side and the other, (but) what must the people do? Pray for each other, this is important: prayer. And second: do things together. Are there poor? We work together with the poor. There is this and that problem: we can do it together, we do together. Are there migrants? We do things together ... we do good things for others, together. This we can do and this is the path of ecumenism. Not only the way of doctrine, this is the last, it comes in last. But we begin to walk together. And with good will we can do this, you MUST do it."
Pope Francis also addressed the work that can be done to achieve a lasting peace between Armenia and Azerbaijan, citing dialogue and equitable international mediation as the only ways forward. "I believe that the one way is dialogue," he said, "a sincere dialogue without things held under the table."
Pope Francis also spoke of the duty Christians have to pray for peace. "Christians also pray, pray for peace, because these hearts … this path of dialogue, of negotiation or of going to an international tribunal, but they can't have problems like this. Think that the three Caucasus nations have problems: Georgia also has a problem with Russia, I don't know much, but it's greater … but it has a problem that can grow, it's an unknown. And Armenia is a nation with open borders, it has problems with Azerbaijan and should go to an international tribunal if dialogue and negotiation is a no-go. There is no other path. And prayer, prayer for peace."
Watch a video report of the event: