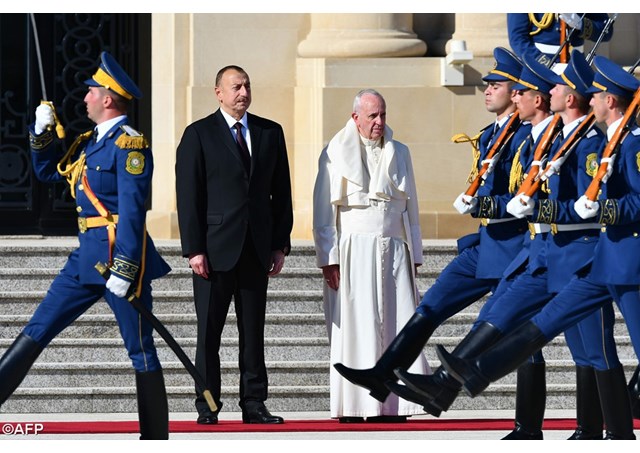 (Vatican Radio) After having celebrated Mass on Sunday morning upon his arrival in Azerbaijan, Pope Francis met with the nation's President, Ilham Heydar Aliyev in the Presidential Palace of Baku where he was received by the full Guard of Honor salute which is reserved for visiting dignitaries during the official Welcome Ceremony.
As per protocol, Pope Francis and President Aliyev then met for a private meeting behind closed doors.
President Ilham Aliyev, the fourth President of Azerbaijan, has been in office since 2003. He also functions as the Chairman of the New Azerbaijan Party and the head of the National Olympic Committee. Ilham Aliyev is the son of Heydar Aliyev, who was President of Azerbaijan from 1993 to 2003.  
Pope Francis has many engagements on this final day of his 16th Apostolic Journey which has taken him to Georgia and to Azerbaijan. After meeting with the President, he paid a visit to the Baku Monument for the Victims Fallen in the Battle for Independence. Pope Saint John Paul II visited this site when he travelled to Azerbaijan in May 2002.
Here the Pope participated in a ceremony which saw the laying of a wreath in the presence of the Major of Baku.
The monument is known as the 'Alley of Martyrs' and it is situated on one of the highest hills in Baku overlooking the Caspian Sea. 
A long marble wall stretches the length of the memorial, with a portrait of each martyr standing above the tombstone and grave of their final resting place. Hundreds of the Azeris who lost their lives in the Karabakh hostilities and the events of Black January lie in repose, and an eternal flame underneath a large dome stands adjacent to the wall.  
Just across the street from the memorial's location is the Parliament building – thus the cemetery serves as a constant reminder to the nation's leaders and policymakers of the immense sacrifices that earlier generations made in order to secure the nation's freedom. 
Watch a video report of Pope Francis' visit to Azerbaijan: