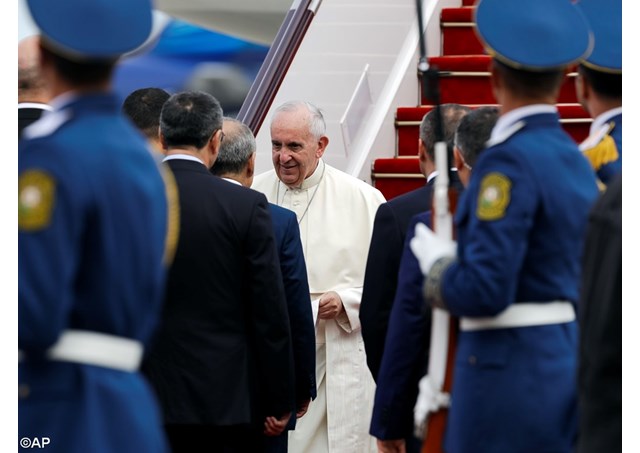 (Vatican Radio) On Sunday morning, Pope Francis concluded his two-day visit to Georgia before making his way to Azerbaijan, the last stop on his journey to the Caucasus nations.
The Pope departed by air from Georgia's Tbilisi international airport at around 8:00 local time following a departure ceremony, thus wrapping up his two day visit to the nation.
The papal plane then landed in Baku's Heydar Aliyev international airport shortly before 9:30 in the morning local time. Upon landing, the Holy Father was greeted by the first deputy prime minister of Azerbaijan, Yaqub Eyyubov, as well as other authorities.
The main event of Pope Francis' visit to Azerbaijan is the celebration of Mass at the Church of the Immaculate, the Salesian center of Baku, followed by lunch with the Salesian community.
Other events include a courtesy visit to the president of the republic, Ilham Heydar, and a meeting with authorities at the Heydar Aliyev Centre.
The visit also includes a private meeting between Pope Francis and the Sheikh of the Muslims of the Caucasus in the Heydar Aliyev Mosque, and another private meeting with the Orthodox bishop of Baku and the president of the Jewish community.
Pope Francis is scheduled to depart from Heydar Aliyev international airport at 7:15 in the evening, and is expected to arrive in Rome at 10:00.