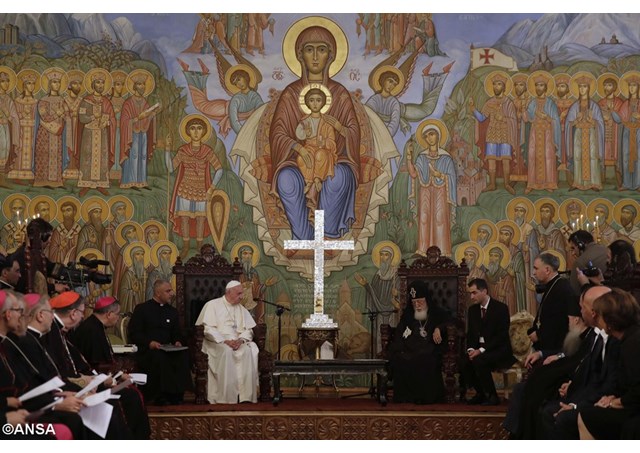 (Vatican Radio) One of the highlights of the Holy Father's first day in Georgia was his meeting with the Catholicos-Patriarch of All Georgia, Ilia II, and with the Members of the Holy Synod of the Georgian Orthodox Church.
In his address during the meeting, Pope Francis focused on the love of Christ as a basis for building up the bonds of unity between the Catholic Church and the Georgian Orthodox Church.
In his address to the leaders of the Georgian Orthodox Church, Pope Francis recalled Patriarch Ilia's visit to Rome in 1980, the first visit ever of a Georgian Patriarch to the Vatican. He also recalled the visit of Pope John Paul II to Georgia on the eve of the Jubilee Year of 2000.
Pope Francis' visit to Georgia likewise comes during the celebration of a Jubilee, the Extraordinary Jubilee of Mercy.
On the occasion of this new meeting, the Pope noted the ties that exist between the Georgian Church, founded on the preaching of St Andrew; and the Church of Rome, built on the foundation of the St Peter, Andrew's brother. Addressing Ilia as "Dear Brother," Pope Francis said, "let us allow the Lord Jesus to look upon us anew, let us once again experience the attraction of his call to leave everything that prevents us from proclaiming together his presence."
The love of Christ as the basis of unity among Christians was the focus of the Pope's reflection. "Truly, the love of the Lord raises us up," Pope Francis said, "because it enables us to rise above the misunderstandings of the past, above the calculations of the present and fears for the future."
The people of Georgia, he continued, have witnessed to "the greatness of this love" through the centuries – a love that has inspired "the immortal beauty" of Georgia's cultural patrimony.
"I want to be a genuine friend to this land and its beloved people," Pope Francis said, a people "who do not forget the good they have received and whose unique hospitality is intimately united to a way of living that is full of true hope, even though there is no shortage of difficulties."
Pope Francis concluded his remarks by with an appeal to the "courageous heroes" of Georgia's history, "who like St George, knew how to defeat evil." May their intercession, he prayed, "May their intercession bring relief to the many Christians who even today suffer persecution and slander, and may they strengthen in us the noble aspiration to be fraternally united in proclaiming the Gospel of peace."