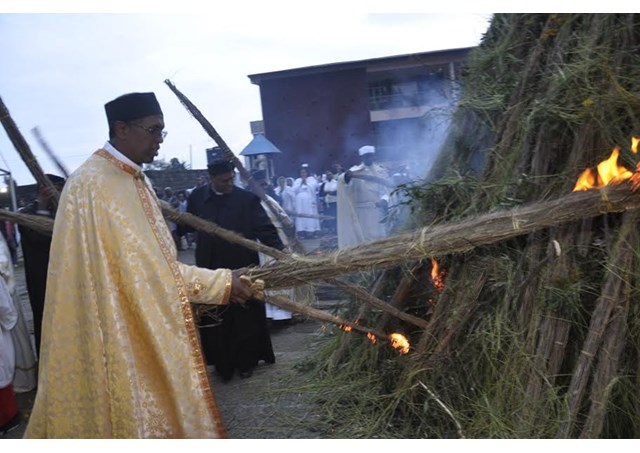 Catholics in Ethiopia have celebrated 'Meskel,' the feast that commemorates the discovery of the True Cross. The faithful from the different Parishes of Addis Ababa gathered at the Parish of Our Lady of Zion to celebrate the feast. They lit a Bonfire to symbolise the light and peace that comes from Christ.
On the occasion, Fr. Tesfay Woldemariam, the Vicar General of the Archdiocese of Addis Ababa said the Cross is the light of the world and the foundation of the Church.
 "In our Church, we always remember the passion of the Cross; we begin everything with the sign of the Cross in the name of the Holy Trinity. We are called to reflect on the mystery of the Holy Trinity and our Baptism and imitate the Mercifulness of the Holy Trinity in our lives," he said.
He said Catholics celebrate the feast because the Cross is the emblem for Christians; it gives us love, peace and strength to answer our calling. "As Our Lord carried his Cross, we also have to carry our earthly cross every day and looking at Our Lord's True Cross gives us strength. Thus we must celebrate the feast of the Cross with great spirituality and Love for God and our neighbours," said Fr. Tesfay.
During the 'Meskel' feast, choirs praised the Lord while Fr. Tesfay and other priests lit the bonfire in commemoration of the finding of the True Cross by St. Elena, the mother of the Roman Emperor, Constantine.
The traditional celebration of the Feast of 'Meskel' in Ethiopia is registered by UNESCO as an intangible cultural heritage of the country.
(Makeda Yohannes in Addis Ababa)
Email: engafrica@vatiradio.va