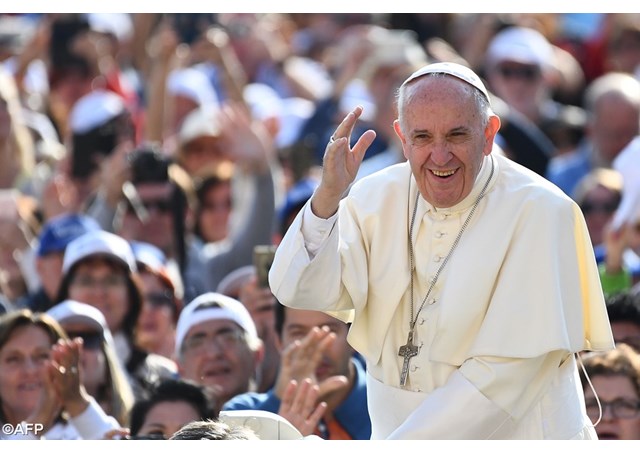 (Vatican Radio) Pope Francis offered his catechesis at the Wednesday General Audience on the topic of "The Forgiveness of the Cross."
Listen to Christopher Wells' report: 
The Holy Father focused on the last moments of the Crucifixion, and especially on the two thieves who were crucified alongside the Lord. One of the thieves insulted the Lord, calling on Him to save Himself, and them. "They did not understand the mystery of the sacrifice of Jesus," the Pope said. Jesus is able to save precisely because He remained on the Cross. By remaining on the Cross, Christ showed His omnipotence and forgave us.
By dying on the Cross, between two criminals, Jesus shows that "the salvation of God" is offered "for everybody, no one is excluded. It is offered for all."
To those who suffer, to those suffering in a hospital bed, or living in a prison, those caught up in a war, Pope Francis said, "Look to the Cross: God is with you, He remains with you upon the Cross, He is offered to all as a Saviour."
The Good Thief, on the other hand, offers to us a model of penance, beginning with a filial fear of the Lord – the fundamental attitude that opens up confidence in God, the understanding of His omnipotence and mercy.
He then openly confesses his guilt, the second necessary step of true penitence. "It's true," the Pope said, "he was a great thief, he stole things all his life […] but in the end, he stole heaven."
Finally, the Good Thief appealed directly to Jesus, who is so good and so merciful. In this way, the Good Thief, a criminal condemned to death, "is a model for a man, for a Christian who entrusts himself to Jesus."
Concluding his catechesis, Pope Francis turned once more to Christ: "In the hour of the Cross, the salvation of Christ reached its climax; and His promise to the good thief reveals the completion of His mission – that is, to save sinners."