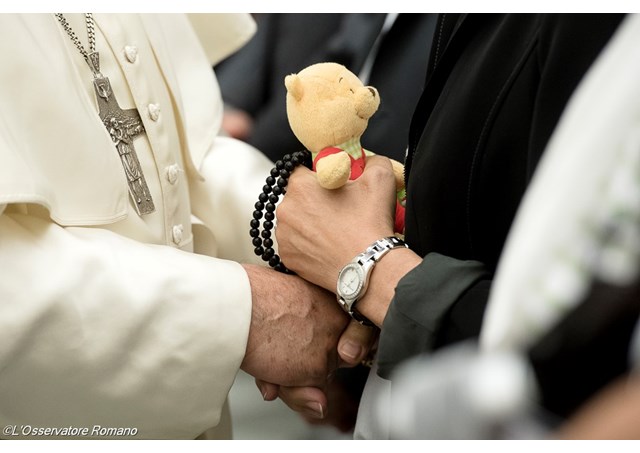 (Vatican Radio) Pope Francis on Saturday received family members of the victims of the Bastille Day terror attacks in Nice, renewing his condolences and promises of prayer for their healing and for the souls of their loved-ones.
"It is with profound emotion that I meet you," said Pope Francis, "who suffer in body or in soul because, one festive evening, violence blindly struck you – you, or one of your dear ones – without regard for origin or religion." The Holy Father went on to say, "I desire to share your pain, a pain that becomes even stronger when I think of the children, even entire families, whose lives have been so suddenly and so dramatically torn away: to each of you I assure my compassion, my closeness and my prayer."
Click below to hear our report:
"Dear families," he continued in his address to the roughly 1 thousand people gathered in the Paul VI Hall for the occasion, "I invoke our Heavenly Father, the Father of all, that He might welcome your loved ones, that they might soon find rest and the joy of eternal life."
"For us Christians," the Pope went on to say, "the foundation of hope is Jesus Christ crucified and risen. The Apostle Paul assures him there: 'If we died with Christ, we believe that we shall also live with him, knowing that Christ, risen from the dead, dies no more; death no longer has power over Him. (Rom 6:8-9)' May the certainty of eternal life, which also belongs to believers of other religions, be for you consolation in life, and constitute a powerful motive for perseverance to continue with courage on your way here on earth."
Pope Francis went on to offer promises of prayer for all those injured in the attack, whether in body or in spirit, especially remembering those who could not make the trip to Rome because of their injuries, some of whom are still in hospital.
"The Church remains close to you and accompanies you with immense compassion, he said. "With her presence next to you in moments such as these, which are so weighty to face, she asks the Lord to come to your aid and to put in your hearts sentiments of peace and brotherhood."
Then Pope Francis recalled how the drama that unfolded in Nice has moved people from every quarter to significant gestures of solidarity, and thanked all those, who acted as first responders and who continue to be devoted even today to serving and lending support to all the families affected.
"I think of course the Catholic community and to their bishop, André Marceau, but also to the care services and volunteers, in particular the Alpes-Maritimes Fraternité association, present here, which gathers representatives of all religious confessions," he said, adding, "and this is a very nice sign of hope."
The Holy Father went on to say he is relieved to know that interreligious relations in Nice have not been allowed to deteriorate in the wake of the attack. "I am glad to see that among you interreligious relations are very much alive, and this can only help to alleviate the hurt of these dramatic events," he said.
"In fact," Pope Francis continued, "establishing a sincere dialogue and fraternal relations among all, particularly among those who confess a God who is one and merciful, is an urgent priority that those in leadership positions both political and religious should seek to encourage, and which everyone is called to realize in his own space."
Then the Holy Father went on to warn against giving in to temptations to turn inward, or to answer hatred with hatred and violence, saying that when such temptations are great, authentic conversion of heart is necessary. "This," he said, "is the message that the Gospel of Jesus addresses to all of us: you can respond to the assaults of the devil only with the works of God that are forgiveness, love and respect for your neighbor, even if he is different."
Watch a video of the event: