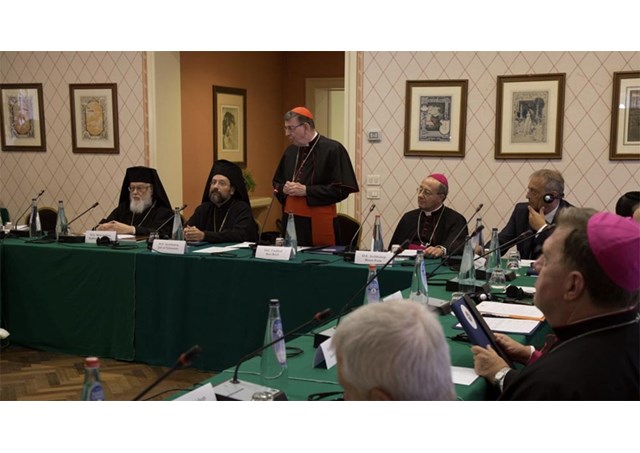 (Vatican Radio) Catholic and Orthodox theologians have reached agreement on a new joint  document entitled "Synodality and Primacy During the First Millennium: Towards a Common Understanding in Service to the Unity of the Church". The announcement was made at the conclusion of a plenary session of the Joint International Commission for Theological Dialogue between the Orthodox and Catholic Churches which took place in the Italian town of Chieti from September 15th to 22nd.
Listen to Ann Schneible's report:
Mgr Andrea Palmieri, undersecretary of the Pontifical Council for Christian Unity, told Vatican Radio the new agreement is the result of a long process which began with the so-called Ravenna document, published in 2007 on the role of primacy in the early Church. The new document looks closely at the relationship between the primacy exercised by the bishop of Rome and other Church leaders, he said, and can therefore point to ways of "resolving problems still existing between Catholics and Orthodox today".
This document, Mgr Palmieri said, "opens the way" to a new phase of the dialogue but does not clearly resolve all the issues on the table. A note on the website of the Moscow Patriarchate, said consensus was reached, even though the Georgian Orthodox Church "disagreed with the individual paragraphs" of the document. The Georgian objections, it said, are contained in a note in the final communiqué adopted by the plenary session.
No agreement was reached in Chieti about the focus of the next plenary assembly which is due to be held in two years' time in a predominantly Orthodox country.