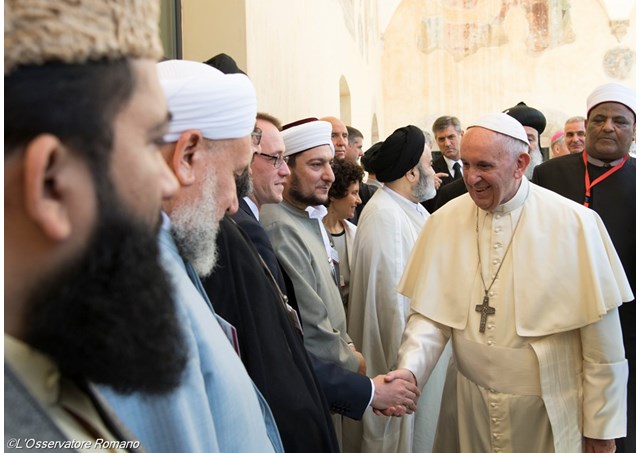 (Vatican Radio) Indian writer and activist Sudheendra Kulkarni is one of the estimated 450 religious representatives of various faiths participating in the World Day of Prayer for Peace in Assisi where he participated in the panel discussion entitled "Terrorism Denies God". 
Kulkarni, who is of  Hindu faith, heads  the Observer Research Foundation,  an independent think tank, based in India. He is particularly concerned with interfaith dialogue, specifically India/Pakistan dialogue for peace and cooperation. 
He told Vatican Radio's Christopher Altieri that the message of the World Day of Prayer for Peace is more relevant today than ever:
Sudheendra Kulkarni discusses the significance of his participation in the World Day of Prayer for Peace event in Assisi: "The message of Assisi is universal. It is not only for Assisi, it is not only for Italy, nor is it only for the Christian world. The greatest saint of mankind, one of the greatest saints, St. Francis was from Assisi and we in India respect St. Francis and the interfaith conference that was organized for the first time 30 years ago. It was a landmark in interfaith harmony around the world and we are gathering 30 years later, therefore it is very important for us in India". 
Kulkarni notes that although he was not in attendance at the first World Day of Prayer for Peace in 1986, he has heard about it. He says that "the message is even more relevant for the world today".
Reflecting upon the progress that has been made since the first World Day of Prayer for Peace in 1986, Kulkarni said, "What it has achieved is that since 1986 there is a far greater awareness in the world that in our globalization era all the countries, all the cultures, and all the religious communities should live together. This awareness is much stronger today than it was in 1986 because as you know 1986 was still the era of the two conflicting power blocks. The Cold War era: the Cold War is over but in the era of globalization all religions have to dialogue with each other and learn to live in peace and harmony with each other".
Although there has been a significant amount of progress since the first event, Kulkarni acknowledges that there is still work to be done. 
"There are many problems and some new problems and we have to learn from each other. We have to learn to live with each other by respecting our differences" he says.
Kulkarni further discusses the Cold War and the drive to remove religious impulses in mankind: "I would think that this impulse is much weaker today because the ideology of godlessness, the ideology that tried to take humanity away from religion and away from God has failed, it has collapsed. Of course that does not mean that the entire world is now back on the part of true religious conduct, that is not true. We have a long way to go, but if we understand religion in the true sense of the term and the core message of all religions is the same, I represent Hinduism, I come from India, we respect and we accept all religions as true and as equal. Now this understanding that we have to learn together in a world which has become small, which has shrunk into a village, a global village that we have to live together. There is no other way. This awareness, in my opinion, is much stronger today than 30 years ago".
Kulkarni discusses his experiences with Pope Francis and his expectations for the Pope in Assisi: "Pope Francis is at one level the head of the Catholic Church in the world, but at another level he is the moral conscience keeper of the world. His message is for the entire humanity. Today he is one of those rare voices in the world, which is reminding us that we have to change this world. We have to change this world in a way that the poor are respected, the poor have justice, and the poor can live in a secure world. Second, he is one of those great global leaders who are speaking very spiritedly for the protection of ecology. He is in fact known as a green Pope and we in India respect him for this, and will be very happy to see Pope Francis visiting India at his earliest opportunity".