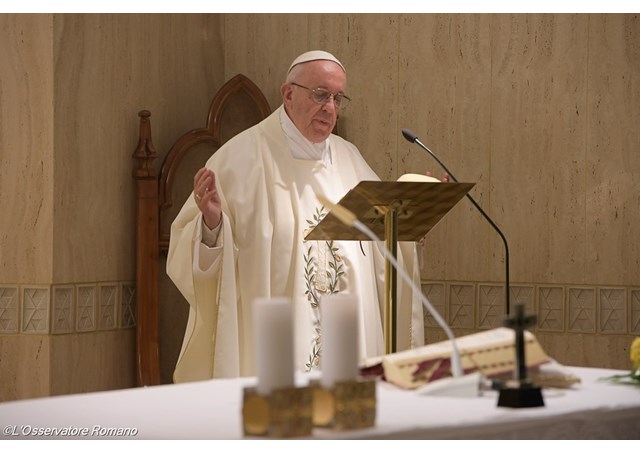 (Vatican Radio) Don't envy the rich and powerful or conspire against your neighbour, but instead nurture the light of faith in your lives. That was Pope Francis's message in his homily at the Santa Marta Mass on Monday morning, as Philippa Hitchen reports:
Reflecting on the reading from St Luke's Gospel the Pope talked about the many ways in which we hide the light of faith, through jealousy and arguments, by plotting evil against our neighbours or simply by putting off until tomorrow the good that we should do today.
The light of faith, he said, is a gift that each one of us receives from God on the day of our Baptism. He recalled that Baptism was called 'Illumination' in the first centuries of Christianity, a term that is still used in some of the Eastern Churches today.
But just as Jesus warned the crowds not to conceal the light, so the Pope said if we hide that light we become lukewarm Christians. He talked about the many ways in which we risk putting out that light, starting with delaying the help that we're called to give to our neighbours in need. Never put off doing good until tomorrow, the Pope said, because it's a form of injustice and you can't put 'good' in the fridge.
Pope Francis went on to warn about those who plot evil against their neighbours instead of responding to the trust placed in them. Anyone who conspires againsta neighbour and takes advantage of that trust is a "Mafioso", he insisted and the darkness of every mafia puts out the light of faith.
The Pope also spoke about the temptation to argue, even with those who haven't done us any wrong. Arguments wear us out, he said, so it's better to pardon and to let these things go.
Finally, Pope Francis said we should not envy those who are powerful, successful or violent because God spurns them and calls the righteous to be His friends. To be jealous of power and wealth is another way of hiding the light, he said, yet the same worms who devour our corpses will eat the bodies of the rich and powerful too.
The Pope reiterated Jesus' words, urging his listeners to be 'children of light' and to take care of the light, rather than hiding it under a bed. May the Holy Spirit which we received at Baptism, he concluded, help us to avoid these bad habits which hide the light and let us instead nurture the light of friendship and humility, the light of faith and hope, the light of patience and goodness.