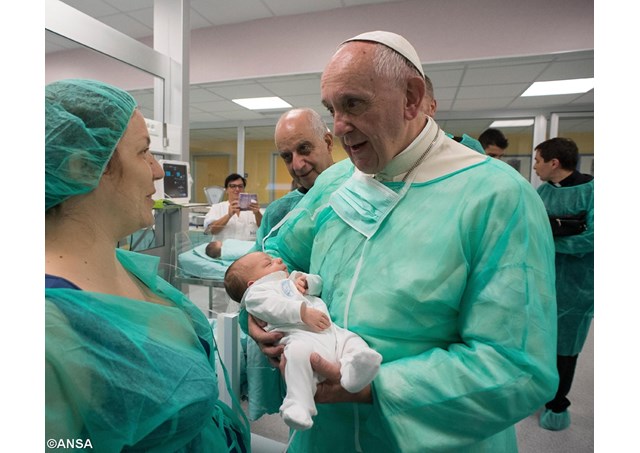 (Vatican Radio) Pope Francis has made two more of his impromptu visits to hospitals and social service centres as part of his regular Friday initiatives during this Year of Mercy.
The Pope began by making a surprise visit to the Accident and Emergency department and to the Neonatal unit of Rome's San Giovanni hospital.
After putting on a mask and completing the other health and safety procedures, the Pope stopped beside the incubators of twelve new born babies, five of whom are suffering from severe complications, including one set of twins. The Holy Father offered words of comfort and support to all of the parents, before going on to meet with staff and families at the nursery on the floor above.
Later in the afternoon the Pope visited some thirty terminally ill patients at the Villa Speranza Hospice, located in the north of Rome as part of the Gemelli University Hospital Foundation.
A note from the Holy See press office explained that through these two 'Mercy Friday' encounters, Pope Francis wished to "send a strong signal about the importance of life from its first moment until its natural end". Welcoming life and guaranteeing its dignity at all times, the statement said, is a teaching  that the Pope regularly reiterates. Through these two visits, it concluded, he has given a concrete and tangible sign of the importance of caring for the weakest and most vulnerable in order to show mercy in our lives.