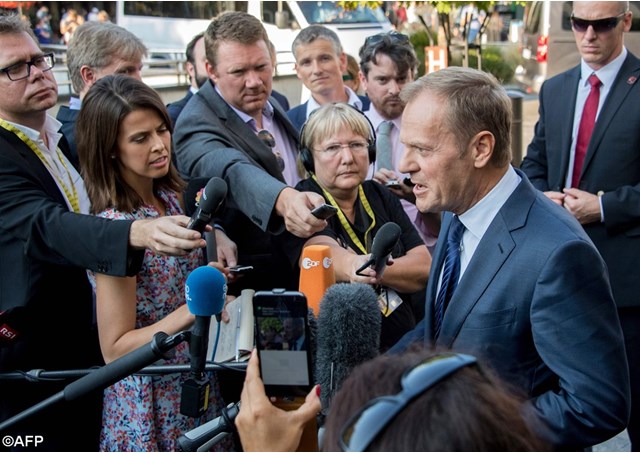 (Vatican Radio) European Union leaders are meeting in Bratislava, Slovakia, on Friday to try to inject new momentum into their communal project amid deep-seated divisions over migration and economic policy.
The summit is overshadowed by the United Kingdom's decision in June to leave the EU. British Prime Minister Theresa May is not taking part in today's meeting. 
Listen to Christopher Wells' report: 
European Council president Donald Tusk called on EU leaders to take a "brutally honest" look at the bloc's problems as they meet in Bratislava to find a way forward after Britain's vote to leave the Union.
With British Prime Minister Theresa May absent, the other 27 leaders are gathering on Friday to try and agree a diagnosis of why people across the bloc are increasingly voting for eurosceptic parties and on ways to regain trust in the EU.
"We must not let this crisis go to waste," Tusk told reporters on his arrival in the Slovak capital on Thursday. The Polish President of the European Council is chairing the summit. "We can't start our discussion ... with this kind of blissful conviction that nothing is wrong. We have to assure ... our citizens that we have learned the lesson from Brexit and we are able to bring back stability and a sense of security and effective protection."
With governments deeply divided over how to bolster the economy and the euro zone and respond to an influx of refugees, Tusk has highlighted three priorities - strengthening external border controls, combating terrorism and reassuring people of protection from adverse effects of economic globalisation.
Leaders want the summit to launch a process that ends with agreements when they meet in March in the Italian capital to mark the 60th anniversary of the bloc's founding Treaty of Rome.
However, with leading powers France and Germany holding national elections over the coming year, the bloc's immediate scope for agreeing substantive new policies is limited.
The summit host, Slovak Prime Minister Robert Fico, is one of a group of leaders in ex-communist central and eastern Europe who has led a vocal revolt against Brussels and Berlin over their willingness to take in refugees. The so-called Visegrad group said they will repeat their call for tougher controls.