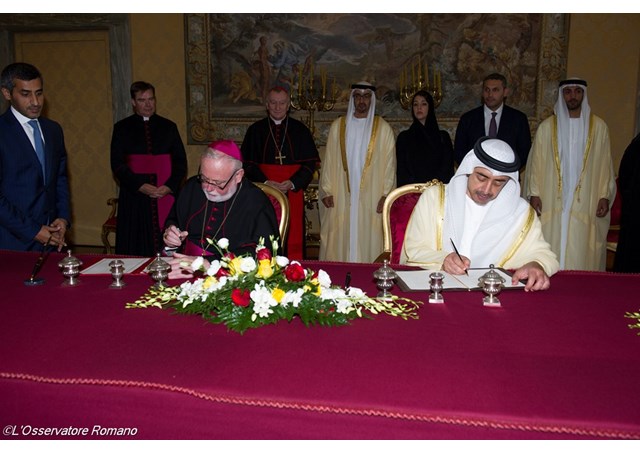 (Vatican Radio) The Holy See and the United Arab Emirates (UAE) on Thursday signed a Memorandum of Understanding (UAE) on the mutual exemption of visa requirements for holders of diplomatic and special passports of the United Arab Emirates and the Vatican.
The Memorandum was signed on behalf of the Holy See by Archbishop Paul Gallagher, Secretary for Relations with States; and on behalf of the UAE by His Highness Sheikh Abdullah bin Zayed Al Nahyan, Minister of Foreign Affairs and International Cooperation.
The signing was witnessed by Cardinal Pietro Parolin, the Vatican Secretary of State, and His Highness Sheikh Mohamed bin Zayed Al Nahyan, Crown Prince of Abu Dhabi and Deputy Supreme Commander of the UAE Armed Forces.
The signing of the agreement was part of the visit by Sheikh Mohamed to the Vatican, where he met with Pope Francis earlier in the day.