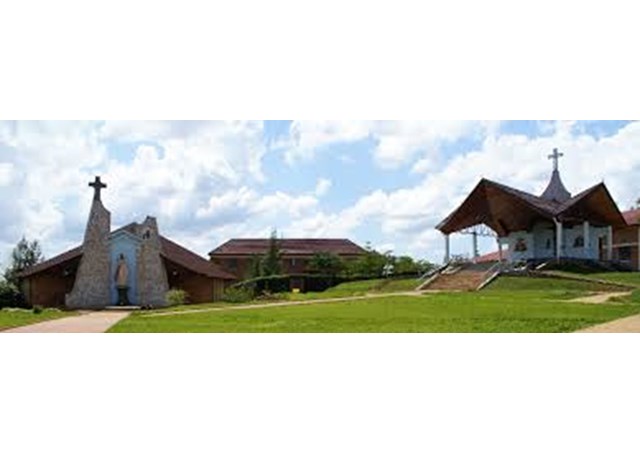 The third Pan-African Congress on Divine Mercy, which started at the weekend, is underway in the Rwandese town of Kabuga at the Shrine of Divine Mercy. Kabuga is located less than thirty minutes away from the Rwandese capital of Kigali.
Present at the weeekend official ceremonies were 3 African Cardinals namely, the Special envoy of Pope Francis to the Congress, Cardinal Laurent Monsengwo Pasinya;  Cardinal Robert Sarah, Prefect of the Congregation for Divine Worship and the Discipline of the Sacraments and Cardinal Philippe Ouédraogo, the Archbishop of Ouagadougou in Burkina Faso. Also present were ten Archbishops and Bishops; several priests, the religious and the Catholic faithful from all over Africa.
In his welcome address to participants, Nigerian Bishop, Martin Igwe Uzoukwu of Minna Diocese gave the history of the Congress on Divine Mercy in Africa. He outlined how it all started and how the Congress has been growing over the years. Bishop Uzoukwu spoke about the meaning of the term mercy and how Africa was in great need of the mercy of God.
Cardinal Laurent Monsegwo, the special envoy of Pope Francis in Kigali accompanied by the Archbishop of Kigali, Thaddeus Ntihinyurwa and Bishop Martin Ouzoukwu then symbolically lit the candles of divine mercy at the Shrine. The candles will remain lit throughout the Congress.
Making his presentation at the start of the Congress, Secretary General of the Zambia Conference of Catholic Bishops, Fr. Cleophas Lungu, a Biblical scholar, gave a talk on the "Biblical Foundations of Divine Mercy in the Old Testament." He outlined how God's mercy, again and again, manifested itself through His chosen people, Israel.
The Congress also took time to pray for peace and unity in Gabon. Pope Francis, at his usual Sunday Angelus also prayed for Gabon which is going through a time of severe political crisis.
(Email: engafrica@vatiradio.va)