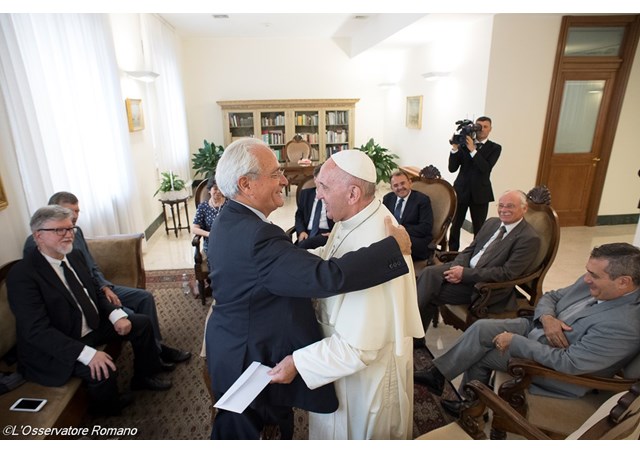 (Vatican Radio) Pope Francis has met with a group of Italian Pentecostal pastors, telling them that unity is achieved by walking patiently together.
The seven Pentecostal pastors, led by the Pope's friend Giovanni Traettino from the Evangelical Church of Reconciliation, had a private audience in the Casa Santa Marta on Thursday afternoon to continue the dialogue begun by the pontiff's visit to their community in Caserta two years ago.
During the informal encounter Pastor Traettino thanked the Pope for his role "as a brother and an ally" in accelerating the dialogue between Catholics and Pentecostals.
Pope Francis replied that he "felt in his heart" the need to undertake steps towards reconciliation, citing the examples of his meeting with the Waldensian community or with the Russian Orthodox Patriarch Kirill. Unity, he said, is achieved step by step, through a patient and continuous journey together. Full unity, he said, will be achieved after "the Son of Man returns" but in the meantime, he stressed, Christians must pray, repent of their sins and walk together.