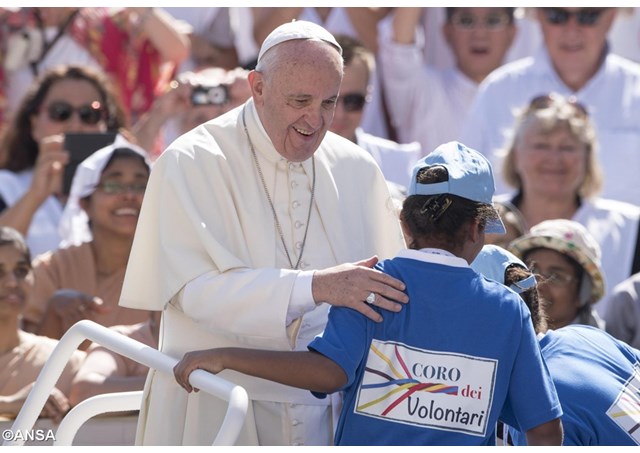 (Vatican Radio) Thousands of volunteers and "workers of mercy" took part in a special Jubilee Audience with Pope Francis on Saturday morning in St Peter's Square.
Listen to Christopher Wells' report: 
Following a morning of song and dance, with testimonies from volunteers from all over the world, Pope Francis spoke on the theme of love, basing his reflection on the St Paul's hymn to love from the First Letter to the Corinthians.
"This teaching must be for us an unshakable certainty," the Pope said: "The love of God will never diminish in our lives or in history." God's love, he said, is "youthful, active, dynamic" and has "an attraction beyond all telling." It is faithful and fruitful.
The Holy Father emphasized strongly that the love St Paul speaks about is neither abstract nor vague, rather, "it is seen, touched, and experienced first-hand" – and the greatest expression of this love is Jesus Himself. Jesus shows us the love of God by dying on the Cross.
In the face of this truth, Pope Francis said, we cannot remain silent or indifferent. The Church "cannot look away and turn her back on the many forms of poverty that cry out for mercy." Mercy must take on a concrete form he repeated. "The truth of mercy is expressed in our daily gestures that make God's action visible in our midst.
To the volunteers gathered in the Square – representing workers of mercy around the world – Pope Francis said "You are among the most precious things the Church has, you who, every day, often silently and unassumingly, give shape and visibility to mercy." He encouraged them to always be ready to offer solidarity, and to continue their work with joy and humility. 
You can find the full text of Pope Francis' catechesis here.