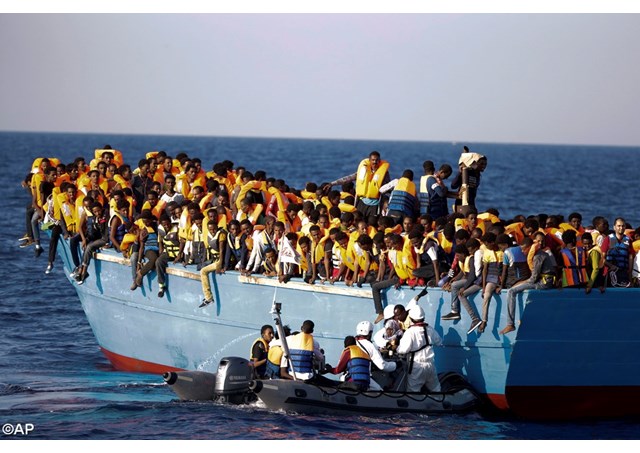 (Vatican Radio) The International Organization for Migration (IOM) comments on the latest surge of some 6,500 migrants who were rescued from unseaworthy boats off the Libyan coast on Monday and looks at the factors driving migration from many African countries.  The 6,500 migrants, believed to be mostly Africans, were saved in dozens of separate rescue missions taking place some 20 kilometres off the port of Sabratha in Libya. It marked one of the largest influxes of migrants and refugees in a single day so far this year.  
Leonard Doyle is a spokesperson for the International Organization for Migration (or IOM).  He said the migrants were crammed onto "particularly unseaworthy boats" and said if they had gone to "the high seas," they would have all "probably drowned."
Susy Hodges asked him whether this large number of boats represented a new surge in the number of migrants desperately trying to cross the sea to Europe. 
Listen to the interview with Leonard Doyle of the International Organization for Migration (IOM): 

Doyle said he believed the reason there was such a sharp spike in the number of migrants setting off by boat from Libya was due to a break in recent poor weather that probably led to delays in their planned departures.    
Speaking about the "particularly unseaworthy" nature of the boats carrying these migrants, he said the people smugglers, as they have all along, "been behaving abominably" (towards the migrants) and condemned their "cynical and brutal" behaviour.
Asked whether he believed legal resettlement of the migrants and refugees by the EU could help to solve the crisis, Doyle said resettlement, such as, for example, the 10,000 Syrian refugees resettled by the U.S.A., represents "only a small proportion" of the "millions of refugees" waiting in camps for such a chance but said it is still a positive measure and definitely "is a way of giving people hope, especially the most vulnerable."
Doyle says a permanent and effective solution to the migration crisis can only come when peace returns to their countries of origin and there is a halt to the drivers encouraging this movement of people.  In addition to conflict, he said there's a need to get rid of corruption in those nations, create more job opportunities for people and push back climate change.