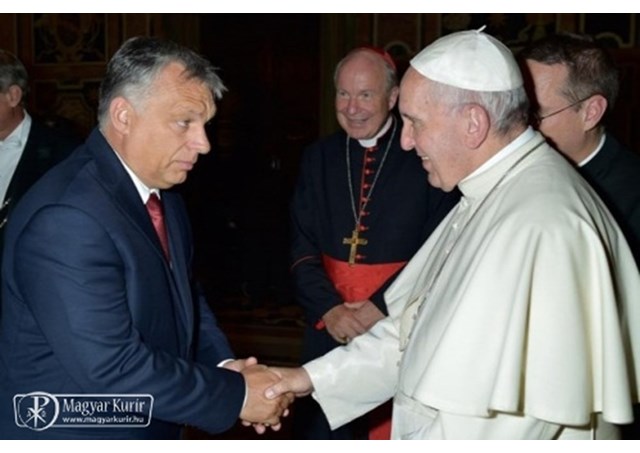 (Vatican Radio) Officials say Hungary's Prime Minister Viktor Orbán has met Pope Francis after he pledged that his nation wants to tackle the persecution of Christians at a time when Europe faces a massive refugee crisis.  
The Hungarian government's international press office confirmed to Vatican Radio that Orbán met the Pope last weekend on the sidelines of the annual International Catholic Legislators Network meeting. 
That gathering, held in Frascati, near Rome, was described as the "largest forum for Christian heads of government". 
Listen to the report by Stefan Bos:
Sunday's private audience came as Europe faces a massive refugee crisis. Orbán said last week that Hungary plans to build a second "more massive fence" on its southern border with Serbia to halt any new wave of mainly Muslim migrants fleeing war and poverty. 
He explained that the new barrier, to be built alongside the existing razor wire one, would boost defences if Turkey's policy on migration changed. If that happened, Orbán warned, hundreds of thousands of people could appear at Hungary's border on their way to more prosperous European Union nations. 
POPE URGING COMPASSION
Yet, since the start of the migration crisis, the pope has often reminded Catholics, and nations, to help refugees regardless of their religious background. Last year he called on every Catholic parish to take in at least one of the thousands of desperate families. And he recently visited the Greek island of Lesbos and its refugee camps, taking three families back to the Vatican with him.
However Hungary's prime minister has made clear his country now shares Pope Francis concerns about persecuted Christians. Just before meeting the pontiff he told Middle Eastern Christian leaders that predominantly Catholic Hungary stands up against the persecution of Christians in the Middle East. 
He reportedly called them "the most vulnerable Christians in the world". And Orbán made clear that predominantly Catholic Hungary is ready to support communities at risk, including Christians.   
Leaders attending the talks focusing on persecution included Ignatius Joseph III Yonan, the Patriarch of Antioch for the Syriac Catholic Church; Patriarch Moran Mor Bechara Boutros al-Rahi; Jean-Clement Jeanbart, the Melkite Greek Catholic Archbishop of Aleppo; Moran Mor Ignatius Aphrem II, the patriarch of the Syriac Orthodox Church; and Anba Gabriel, a Coptic bishop.