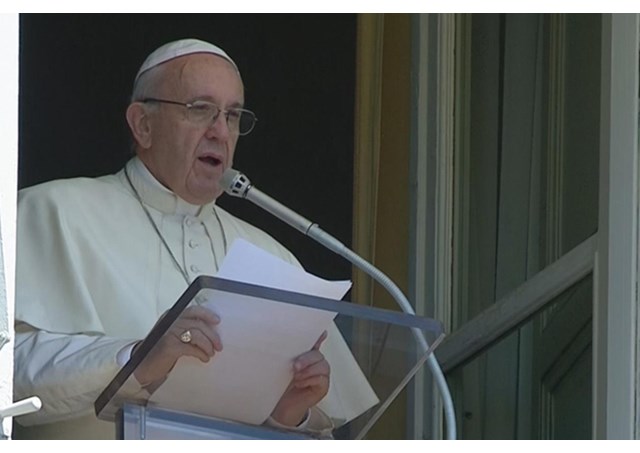 (Vatican Radio) Pope Francis prayed the Angelus with the faithful in St. Peter's Square on Sunday, the final Sunday in the month of August and the twenty-second Sunday in Ordinary Time. In remarks to the pilgrims and tourists gathered in the Square ahead of the traditional prayer of Marian devotion, Pope Francis reflected on the Gospel reading of the day, taken from the Gospel according to St. Luke (14:1, 7-14), in which Jesus dines as the guest of a leading Pharisee, and teaches a hard truth about pride and the Kingdom of God and issues a challenge to all present to focus their thoughts and order their actions to the promise of the Resurrection.
As often happens, Jesus taught the Gospel lesson through parables, the first of which regarded the behavior of guests at a banquet:
When you are invited by someone to a wedding banquet, do not recline at table in the place of honor. A more distinguished guest than you may have been invited by him, and the host who invited both of you may approach you and say, "Give your place to this man," and then you would proceed with embarrassment to take the lowest place. Rather, when you are invited, go and take the lowest place so that when the host comes to you he may say, "My friend, move up to a higher position." Then you will enjoy the esteem of your companions at the table. For every one who exalts himself will be humbled, but the one who humbles himself will be exalted.
The Second, equally famous lesson regarded the attitude and behavior of the one, who gives the banquet:
When you hold a lunch or a dinner, do not invite your friends or your brothers or your relatives or your wealthy neighbors, in case they may invite you back and you have repayment. Rather, when you hold a banquet, invite the poor, the crippled, the lame, the blind; blessed indeed will you be because of their inability to repay you. For you will be repaid at the resurrection of the righteous.  
Remarking the lessons, Pope Francis offered words of praise for the many people who have heeded the call and offer their assistance at shelters and soup kitchens, feeding the hungry and performing many other works of mercy.
"Let us ask the Virgin Mary – who was humble all her life – to lead us every day on the way of humility," he said, "so that we are capable of making our own gestures of welcome toward and solidarity with the marginalized, seeking nothing in return, so that we might become worthy of the divine reward."