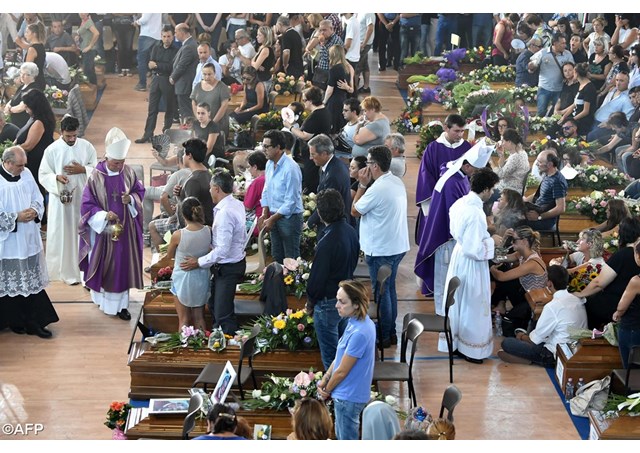 (Vatican Radio) A state funeral was held on Saturday in the town of Ascoli Piceno in Italy for some of the victims of an earthquake that devastated three nearby towns earlier this week, killing at least 290 people.
The Requiem Mass was celebrated by Bishop Giovanni D'Ercole in a community gym where 35 caskets were laid out.
Listen to Christopher Wells' report:
Weeping relatives hugged each other and reached out to touch the simple wooden coffins at the funeral held on Saturday for some of the 290 people killed in the earthquake.
Amongst the 35 coffins laid out in a sports hall were small caskets holding the bodies of an 18-month-old baby and a nine-year-old girl, two of the 21 children who are known to have died when the quake hit central Italy early on Wednesday.
"Don't be afraid to bewail your suffering, we have seen so much suffering. But I ask you not to lose your courage," Bishop Giovanni D'Ercole said in a homily in the hall, which was packed with grieving families and the nation's top politicians. "Only together can we rebuild our houses and churches. Above all, together we can give life back to our communities," he said, speaking in front of a dusty crucifix salvaged from one of dozens of churches devastated by the quake.
Even as the Requiem Mass was being held, rescuers kept searching through the rubble of the worst hit town, Amatrice, although they acknowledged they had little hope of finding any more survivors from Italy's worst earthquake in seven years.
Nine more bodies were recovered from the town on Saturday, including three corpses that were pulled overnight from the crumpled Hotel Roma, bringing the death toll in Amatrice alone to 230 residents and tourists.