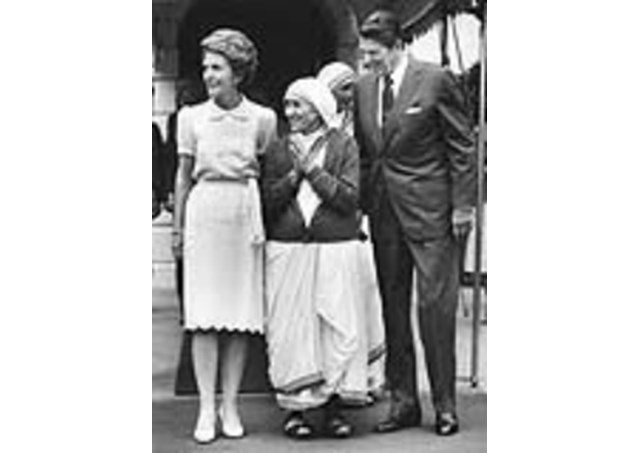 (Vatican Radio) Ahead of this weekend's canonization of Blessed Mother Teresa of Calcutta (Kolkata), the U.S. Ambassador to the Holy See, Kenneth Hackett, shared his memories of her and in one anecdote described how she was able to exert her moral influence over the then Reagan Administration. Ambassador Hackett knew and worked closely with Mother Teresa and her Missionaries of Charity Order while he served as president of Catholic Relief Services. He was interviewed by Susy Hodges.
Listen to the interview with U.S. Ambassador Kenneth Hackett: 

Describing himself as "ecstatic" over Mother Teresa's canonization, Ambassador Hackett said he felt it was definitely overdue or as he put it, "a long time in coming." He paid tribute to Mother and the Missionaries of Charity Order she founded, saying she extended "mercy, kindness, concern and compassion to those who have absolutely fallen through society's cracks" such as people on the streets who are dying or children who have been abandoned. Hackett had earlier described her as a "field hospital" saint, taking the metaphor used one day by Pope Francis at his morning Mass to describe the action of the Church in reaching out to those who are in need.
"A great sense of humour"
Turning to her personality, Hackett disclosed that she had "a great sense of humour" and was adept at "tweaking" people by pricking their consciences when it came to their responsibilities to help the poor and needy. When she did that to him, the ambassador described his reaction:
"You felt like you had got a thunderbolt right through you!" 
Asked to share any special memories or anecdotes about Mother Teresa, Hackett stressed that she "knew how to move the agenda" not just with people like him but also with Presidents and the powerful. As an example, he described one incident where in his earlier post as head of Catholic Relief Services he was in a meeting with leading members of the U.S. Agency for International Development during the time of the "big famine" in Ethiopia during the 1980's.
Mother Teresa's letter to President Reagan
He said they were having an "argument" at that meeting about U.S. government plans to cut food donations to the Ethiopian government when somebody brought in a note from (the then) Secretary of State George Schultz saying that "the President wants an answer in half an hour to Mother Teresa's letter asking President Reagan why he is cutting food to the needy in Ethiopia." Describing Mother Teresa as "bold", Hackett said as a result of that intervention, food supplies were NOT cut to Ethiopia and this was an example of her strong moral influence, even when it came to world leaders.  
U.S. Embassy Exhibit on Mother Teresa
Hackett spoke about the online exhibit which the U.S. embassy to the Holy See launched on August 26th and which documents the strong ties Blessed Teresa had with the United States. He said the exhibit includes many photos and a four-minute video showing Mother Teresa during some of her frequent visits to the U.S. and explained how Americans, regardless of their faith, always held Mother Teresa in high regard. Hackett said this was very apparent because during her U.S. visits, Catholic Relief Services received "thousands" of requests from people wishing to volunteer their services.