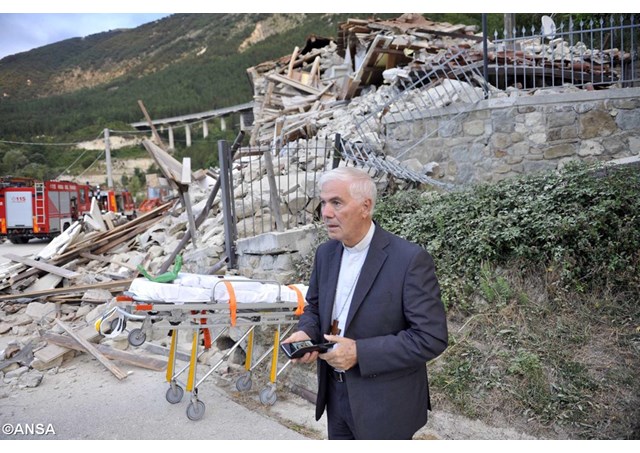 (Vatican Radio)  As the death toll from an earthquake in central Italy continues to rise, Bishop Giovanni D'Ercole of Ascoli Piceno traveled the short 40 km to Pescara del Tronto to be with the hundreds of people affected by the quake.
Bishop D'Ercole spoke to Vatican Radio early Wednesday morning, saying the scene was 'distressing'.
"When I arrived at the break of day, I saw a destroyed village, screams, death... We are truly in a desperate situation and unfortunately this is not the only area affected, because others are also in this situation".
He said there were still many areas unreached by rescue personnel.
"There are several people who are not responding [to telephone calls], and I went to bless the bodies of two children buried under the rubble."
"A certain part of the diocese is suffering. I think, however..., that the area worst hit is the part near Rieti, that is, between Amatrice, Accumoli, Pescara del Tronto, Arquata, and near Force."
Pope Francis cancelled the catechism portion of his Wednesday General Audience and led pilgrims in praying the rosary for the victims of the earthquake.