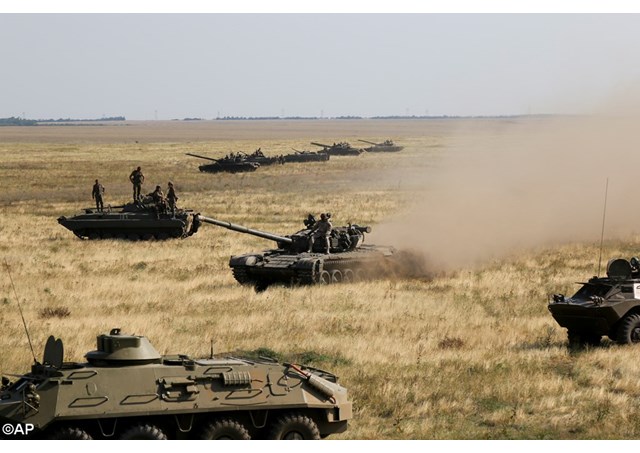 (Vatican Radio) Ukraine's military and Russian-backed separatists in eastern Ukraine have accused each other
of violating a cease-fire agreement amid escalating fighting that has worried international monitors and the West.
The latest clashes have also undermined efforts to treat those wounded in a conflict that has killed more than 9,500 people.  
Listen to Stefan Bos' report



Anxious Ukrainian soldiers watched a burning building where vehicles have been destroyed. The footage released by
Ukraine's Defence Ministry claimed to show the aftermath of recent shelling by Russian-backed separatists. Since Friday
at least two soldiers were reportedly killed, and eight wounded.

Additionally, several civilians were injured. Yet, the shelling here on the outskirts of rebel controlled Donetsk has
made it more difficult to treat and rescue injured people suggested a soldier. "Sadly, they hit directly a Ukrainian medical
battalion car," he said while watching the burning building under cover of darkness.

"The fire and the flames spread to our car given to us by volunteers to help the guys. Now I have no idea how we will
move around."

REBELS ACCUSE KIEV

But rebels have also accused Ukrainian government forces of violating a fragile ceasefire. They said the Ukrainian military launched
more than 180 shells on rebel-held areas in Donetsk over the weekend.

Ukraine's army countered Sunday that the separatists fired 71 times at various government-controlled areas near
the front line over the past 24 hours.

Ukrainian President Petro Poroshenko has accused Russia, who he refers to as "the enemy", of stirring tensions by
supporting separatists in eastern Ukraine and with actions in the Crimean Peninsula that Moscow annexed in 2014.

The Kremlin has denied the charges. However the United States has urged both Ukraine and Russia to show restraint
amid international concerns about a possible wider military conflict between the two neighbors after Ukraine's president
warned of a full-scale "Russian invasion".