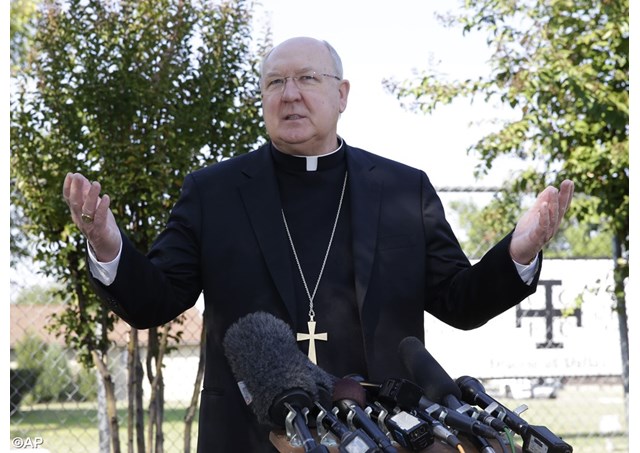 (Vatican Radio) Bishop Kevin J. Farrell of the Diocese of Dallas, Texas, said he was "humbled" when Pope Francis asked him to be the new Prefect of the new Dicastery for Laity, Family and Life.
"I was obviously humbled by the fact that the Holy Father would ask me to go and do such an important work," Bishop Farrell told Vatican Radio.
Listen to the interview of Bishop Kevin Farrell with Charles Collins:
"I have always considered myself to be just a bishop of the diocese and at service to the people here, so when you get a call from the Holy Father asking you to do something like this you cannot but be amazed and humbled at the same time by the whole venture," he said.
He takes up his new position in just a matter of weeks: The new Dicastery has a start date of 1 September, taking over the offices of the Pontifical Councils for the Family and for the Laity.
"I look forward to it," Bishop Farrell said.  
"It seems to me to be a great challenge, especially given the fact that the Holy Father's letter Amoris laetitia is so important and so well-received by the whole world; and being in charge of what was the Council for the Family, obviously that is going to be my number one agenda," – he continued – "And obviously to promote lay ministry, and to ensure that the lay people take their rightful place in the Church, and to promote the apostolate of the laity in the world. I see it as a challenge. I didn't expect this at this stage in my life, but that's where we are!"
When Bishop Farrell arrives in Rome, he will become the second Bishop Farrell at the Vatican: His older brother, Bishop Brian Farrell, is the Secretary of the Pontifical Council for Promoting Christian Unity.
"Yes, I do have a brother there that works there in the Pontifical Council for Christian Unity," Bishop Kevin Farrell said.
"I am looking forward to it," – he explained. – "We have been priests for many, many years, but we have never worked together in the same city, so it will be unique, it will be change."