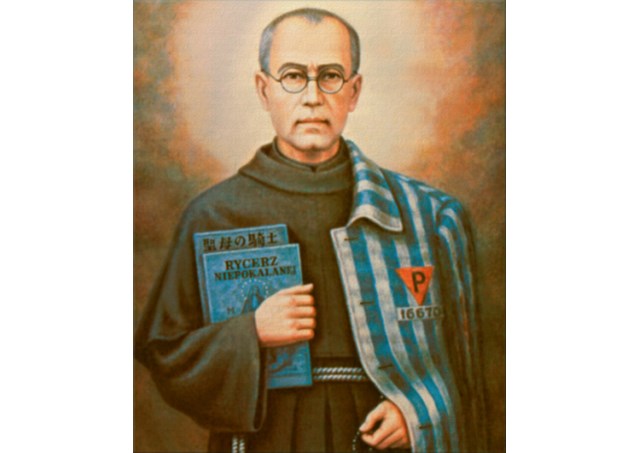 (Vatican Radio)  On the 75th anniversary of the death of St. Maximilian Kolbe, a leading scholar on the life of the saint describes him as "a witness of heroic charity."  Father James McCurry is the Minister Provincial of our Lady of Angels Province of the Franciscan Friars Conventual in the U.S. and the author of a biography on Maximilian Kolbe, who belonged to the same Order.  Father McCurry met many times and became "the best of friends" with the Polish man for whom Father Kolbe gave up his own life inside the Auschwitz concentration camp. He was interviewed by Susy Hodges.
Listen to the interview with Father James McCurry: 

Father McCurry has met and gained first-hand testimonies from people who knew Maximilian Kolbe including the man for whom the priest sacrificed his own life, Franciszek Gajowniczek, a Polish sergeant who was married with young children.
He described how Father Kolbe stood up and offered his own life because "he was so moved by "the plight" of "this father of a family" who had been chosen to die by the Nazis. After being spared his life because of St. Maximilian's heroic gesture, Gajowniczek survived the horrors of the 2nd World War and went on to live until the age of 93. Father McCurry said they met many times after the canonization of Maximilian Kolbe and Gajowniczek would often say of Fr Kolbe: 
"He didn't die just for me but for all of us - to give us a witness of heroic charity." 
Father McCurry said St Maximilian stood "as a symbol of gospel freedom" against the backdrop of all the cataclysms of the 20th century including the two world wars and the rise of the communist totalitarian system.
Asked about his feelings when he watched Pope Francis sit in silent prayer during his recent visit to the underground cell in Auschwitz where Maximilian Kolbe was killed by the Nazis, Father McCurry said it gave him "a deep resonance" because he himself has visited that same cell many times, remarking: "it reduces one to silence."  He spoke of how the atmosphere in that cell "is sacred" because it proves to everybody that "good can triumph over evil," even in Auschwitz that was designed by the Nazis to be "a place of horror, hate and despair."