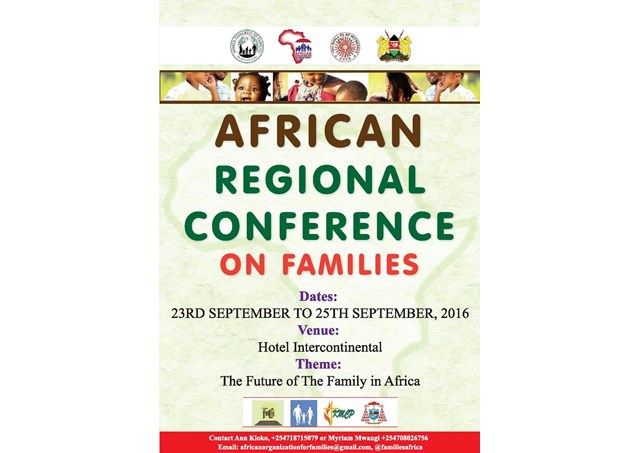 The African Regional Conference on Families is expected to take place in Nairobi, Kenya between 22 and 24 September 2016.
The Conference will be a platform to celebrate the African Family; deliberate on what is currently ailing African families as well as be an opportunity for participants to look for ways forward.
President of the Africa Organisation for Families, Anne Kioko told Waumini News Today, in Nairobi, that her organisation is concerned by the recent concerted push for the legalisation of abortion and implementation of controversial Comprehensive Sexuality Education in schools.  Kioko expressed concern for the innocence of children.
"These programs go way beyond regular sex education and are designed to change all sexual and gender norms of society. They openly promote promiscuity, high-risk sexual behaviour and sexual pleasure even to very young children." She said
The African Regional Conference is being organised by the World Congress of Families in partnership with The Kenya Conference of Catholic Bishops among others.
(By Rose Achiego, Waumini News in Nairobi)
Email: engafrica@vatiradio.va