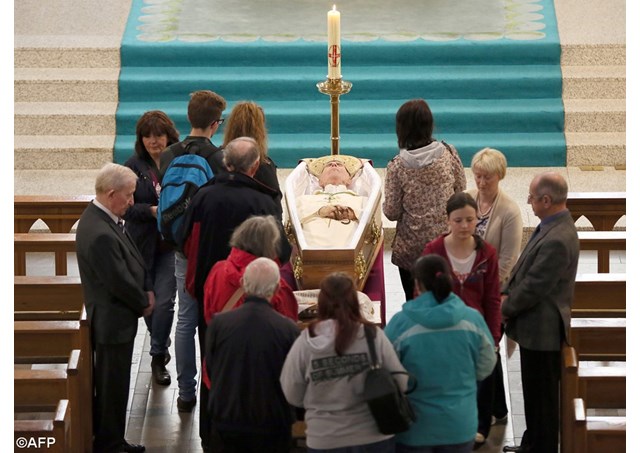 (Vatican Radio) Tributes have been pouring in following the news of the death of Bishop Edward Daly, Bishop Emeritus of Derry. He died on Monday at the age of 82 following a long illness. 
Bishop Daly became one of the symbols of the "Troubles" in Northern Ireland after being photographed holding up a blood-stained handkerchief  as he helped a fatally injured protester during the 1972 Bloody Sunday killings in Derry when 14 people were shot dead by British troops.   
The Archbishop of Armagh and Primate of All Ireland, Eamon Martin described Bishop Daly as "an iconic figure" in Ireland, "a fearless peace-builder - as exemplified by his courage on Bloody Sunday -  and as a holy and humble faith leader." 
In his message of condolence, Archbishop Martin also wrote:
"Bishop Edward's bravery was also apparent in his lived conviction that violence from any side during the Troubles was futile and could never be morally justified.  He was courageous in speaking out against injustice and took many personal risks for peace and reconciliation.  His personal friendship with Bishop James Mehaffey sent a quiet, yet powerful message of harmony and bridge building across the community divide."
Bishop Daly was ordained bishop of Derry in 1974 and served until serious illness compelled him to retire in 1994.  In retirement, despite poor health, he continued to serve as a Chaplain to the Foyle Hospice in Derry. 
Bishop Daly's funeral was scheduled for Thursday August the 11th.