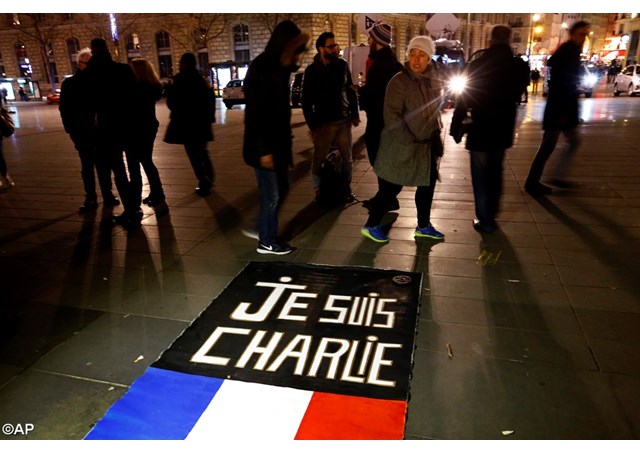 (Vatican Radio) Officials say the brother-in-law of one of the men who attacked the satirical Charlie Hebdo newspaper in Paris has been jailed in Bulgaria. Authorities suspect him of trying to join extremists in Syria.
Listen to Stefan Bos' report:
Bulgaria's Interior Ministry confirmed that 20-year-old Mourad Hamyd is being held in the Balkan nation amid concerns that he wanted to join the ranks of the so-called Islamic State terror group.
Interior Minister Rumiana Bachvarova said Hamyd had "behavior typical for a foreign fighter and that's how he was identified."
A Bulgarian court was to rule Tuesday on his detention. French prosecutors plan to use a European arrest warrant to gain custody of Hamyd, who is the brother-in-law of Cherif Kouachi, a feared militant.
Kouachi and his brother Said shot dead 12 people in an attack on the offices of satirical magazine Charlie Hebdo in Paris last year, including 10 journalists and  two police officers. They were later killed by security forces. 
More bloodshed
The bloodshed was followed by a coordinated assault by gunmen in the French capital in November that killed 130 people.
Mourad Hamyd was initially suspected of a role in the January 2015 attack on the paper. But his high school classmates launched a successful social media campaign to clear his name, saying he was in class at the time.
In published remarks he described himself as a student "who lives peacefully with his parents". Yet authorities remained concerned about his alleged ties to Islamist militants.
On Monday the Paris prosecutor's office said that someone close to Hamyd warned of his probable trip to Syria where the Islamic State group is very active.
Hamyd, who was apparently being monitored by French security services, was reported missing on July 25 by his family in France. Officials said Monday that he was eventually detained in late July in Bulgaria after being turned back at the Turkish border.
It's now up to Bulgaria to decide when and if he will be extradited to France.