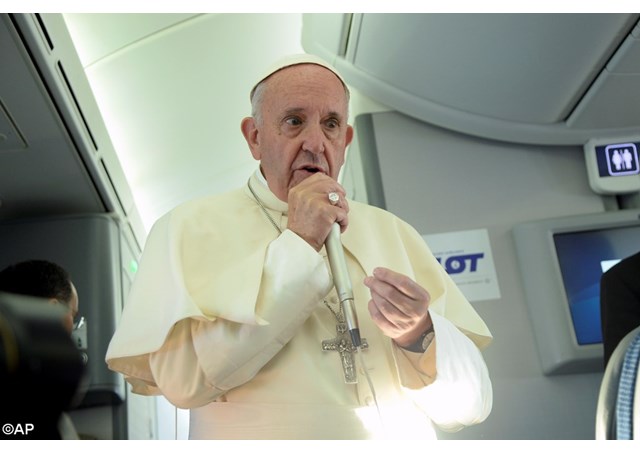 (Vatican Radio) Pope Francis returned to decry terrorism as an inhuman evil on Sunday evening, even as he once again insisted that the real root cause of terrorism is the idolatry of wealth, and not true religion.
Speaking to reporters during his in-flight press conference on return from Krakow, where he had traveled on Wednesday of last week to lead World Youth Day celebrations, the Holy Father said, "Terrorism grows when there is no other option, and to the extent the world economy has at its center the god of money and not the person."
"This," the Pope stressed, "is fundamental terrorism, it is against all humanity."
Click below to hear our report
Discussing his own experience with interreligious dialogue, the Holy Father said that Muslims seek "peace and encounter," adding, "If I speak of Islamic violence, I should speak of Catholic violence. Not all Muslims are violent, not all Catholics are violent."
Pope Francis went on to say, "It is not right and it is not just to say that Islam is terroristic," before denying the representative character of the so-called Islamic State, which he dismissed as a small fundamentalist group.
"There are violent persons of this religion – this is true: I believe that in pretty much every religion there is always a small group of fundamentalists. Fundamentalists. We have them. When fundamentalism comes to kill, it can kill with the language [it deploys]," Pope Francis said.
The pope's remarks came in response to a question from a French journalist, who was asking the Holy Father to expand upon comments he made on the topic of the French priest, 84 Year-old Fr. Jacques Hamel, who was slain by two devotees of the so-called Islamic State last week, as he celebrated Mass.