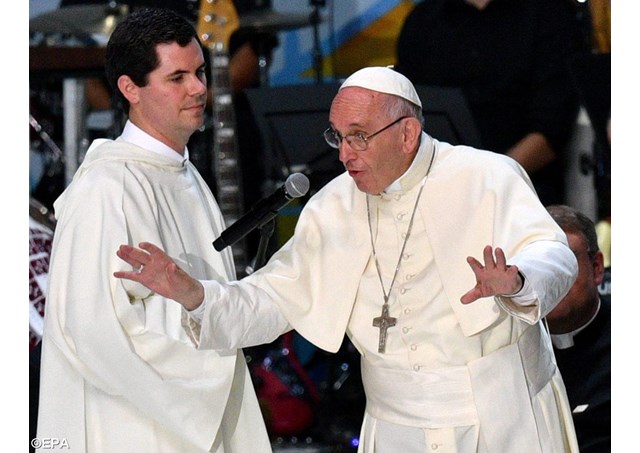 (Vatican Radio) Pope Francis has told young people that he doesn't know whether he will still be around for the next World Youth Day, "but Peter certainly will".
In the last address of his 5-day visit to Poland as he thanked World Youth Day volunteers for their hard work, the Pope handed over his prepared remarks and spoke off-the-cuff, touching on a number of questions.
He reminded the young people that if they want to represent hope for the future they must remember their origins.
"I must ask myself where I come from… the memory of my people, the memory of my family, and the memory of my history. […] The memory of a path that has already been trodden and all that we have received from adults. A young person with no memory cannot be a beacon of hope for the future" he said.
And the Pope invited all young people to speak and to listen to their parents,  to their grandparents and to elderly people in general whom – he said – represent the wisdom of a people.
Another necessary condition if you want to be a beacon of hope for the future, the Pope said, is to live the present with courage, 'not to be afraid'.
He said these two requisites: 'memory and courage' are necessary for your presence at the next World Youth Day in Panama.
"I don't know whether I will be in Panama, but I can assure you that Peter will be!" he said.
And, the Pope concluded: "Peter will ask you if you have conversed with your grandparents and with elder people to acquire memory; he will ask you if you have had the courage and the audacity to live the present; he will want to know whether you have sown seeds for the future".