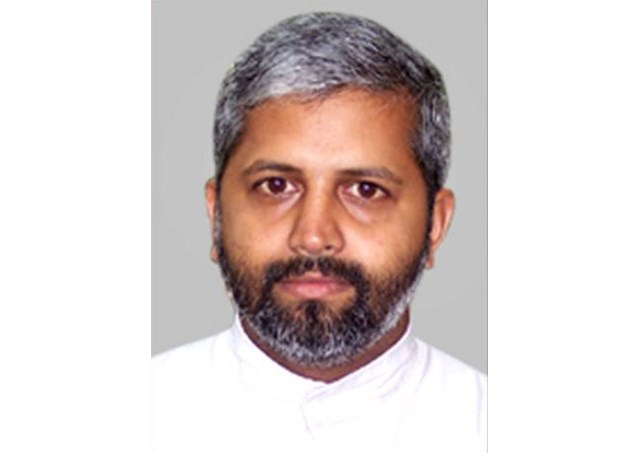 The Holy Father on Thursday, has erected the Eparchy of Great Britain of the Syro-Malabar Church based in Preston and has appointed Dr. Fr. Joseph (Benny Mathew) Srampickal, a member of the clergy of the Eparchy of Palai, until now Vice-Rector of the Collegio De Propaganda Fide in Rome, as the first bishop of the Eparchy.
Msgr. Joseph (Benny Mathew) Srampickal was born on May 30, 1967 in Poovarany, in the Eparchy of Palai. He entered the minor seminary and he studied philosophy at St. Thomas Apostolic Seminary, Vadavathoor, and theology at the Pontifical Urbaniana University in Rome, where he obtained a licentiate in biblical theology. He continued his studies at Oxford (England). He knows: Malayalam, English, Italian and German.
Ordained a priest on August 12, 2000, he has held the following positions: Professor at the minor seminary and Ephrem Formation Centre of Pala; Director of the Mar Sleeva Nursing College, Cherpumkal; Director of the Evangelization Programme; Secretary of the Bishop; Pastor at Urulikunnam. From 2013, he is Vice Rector of the Pontifical Urbaniana College of the Propaganda Fide, Rome.
The last thirty years have seen a growing influx of immigrants from India to the British Isles. More than 38,000 Syro Malabar faithful reside in England, Scotland and Wales. They are present in twenty-seven dioceses, concentrated mainly in the big cities: London, Birmingham and Liverpool. Twenty-three Syro Malabar priests are engaged in pastoral care, coordinated by Dr. Thomas Parayadiyil, MST, from 2013. In addition to the liturgical celebrations, training programs were established in the faith according to the Syro Malabar tradition for both, adults as well as children, with significant benefits for the involvement of the laity.
The See of the circumscription is in Preston, in the Diocese of Lancaster, where the Cathedral dedicated to St. Alphonsa is located, along with the Registry and the Residence of the new Bishop Joseph (Benny Mathew) Srampickal.