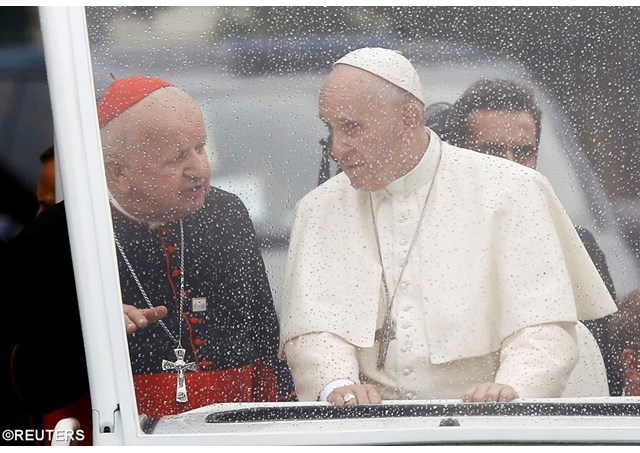 (Vatican Radio) Following his encounter with Poland's political leaders in Krakow's Wawel Castle on Wednesday, Pope Francis met privately with the nation's bishops in the nearby basilica dedicated to the saints Stanislaus and Wenceslaus.
The first royal arch-cathedral basilica was built on the site almost a thousand years ago, while the current Gothic construction was begun in the 14th century. It is Poland's national shrine and has served as the coronation site of kings over the centuries.
It is also the cathedral of the archdiocese of Krakow and it was in the crypt that Fr Karol Wojtyla celebrated his first Mass following his ordination in November 1946, before becoming archbishop of the city in 1964.
After being welcomed to the basilica by the current Archbishop of Krakow Stanislaw Dziwisz, Pope Francis stood for a few moments of silent prayer in front of the tomb of St Stanislaus, where the relics of Saint John Paul II have also been placed.  
Pope Francis then went to the chapel behind the main altar to venerate the Blessed Sacrament before holding a private meeting with the country's 130 bishops.
Before setting off for Krakow, the Pope decided not to give an official speech to the bishops, but rather to hold a private encounter during which all the Church leaders could speak freely and informally. Fr Federico Lombardi, Director of the Holy See Press Office, explained that the Pope wanted the occasion to be as spontaneous and authentic as possible: a moment in which the bishops and the Pope could be at ease and free to exchange opinions or ask questions.
Fr Lombardi pointed out that there would be no television coverage of the event since Pope Francis has made clear that he prefers such a "familiar encounter" when he meets with bishops during his pastoral journeys abroad.