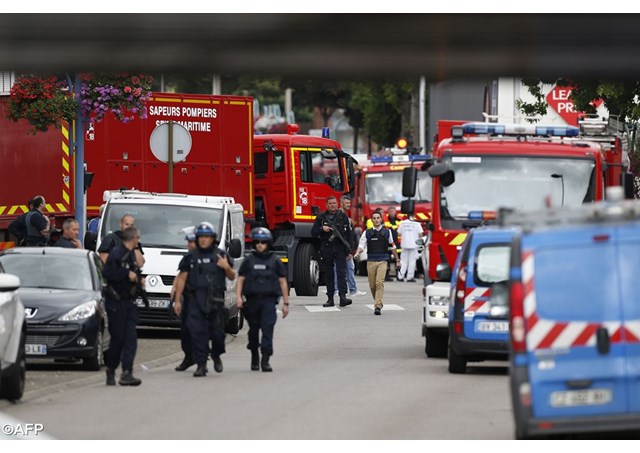 (Vatican Radio) Pope Francis is horrified and shocked by an attack in a church in Rouen, in northern France, where a priest was slain and another hostage was seriously wounded.
A statement released by Fr Federico Lombardi, Director of the Holy See Press Office said: "we are particularly shocked because this horrible violence took place in a Church, in which God's love is announced, with the barbarous killing of a priest and the involvement of the faithful".
Fr Lombardi also said the Pope shares the pain and the horror caused by this absurd violence and expresses firm condemnation of every form of hatred and prays for the victims. 
Two attackers entered the church of  Saint-Etienne-du-Rouvray during Mass on Tuesday morning, taking the elderly priest and four other people hostage before being shot dead by French police.
The investigation was handed to the anti-terrorist unit of the Paris prosecutor's office.
In his statement Fr Lombardi commented on the fact that the terrible news is unfortunately the latest in a series of violent attacks in the past days which have created immense pain and preoccupation.
Father Lombardi said the Pope is close to the Church in France, to the Archdiocese of Rouen, to the local community and to the French people.
Listen to this report by Philippa Hitchen on reaction from the Vatican and from French church officials to the attack: