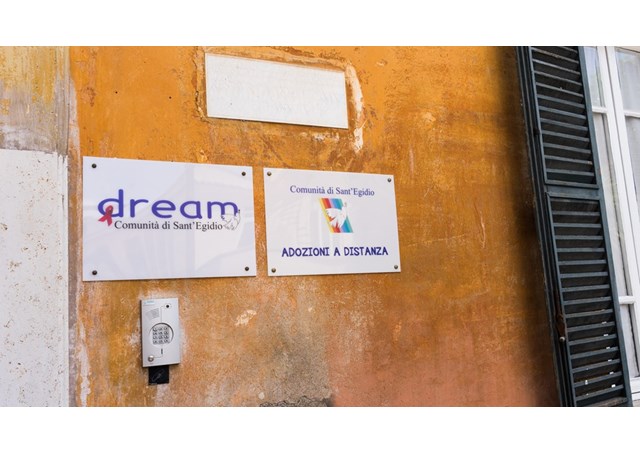 (Vatican Radio) This summer as last, Vatican Radio was proud to host a pair of young, talented students from the Ukrainian Catholic University in Lviv. Ostap Yarysh and Petro Tkachyshyn used their internship to hone their already considerable skills and develop journalistic trade craft, by exploring a powerful and effective - but little known - charitable operation run by the Sant'Egidio Community. You can hear their story on the "Adoption at a distance" program by clicking be button below
Read all about it below the fold 
********************************************************************
"Adoption at a distance" is a charity program begun by the Sant'Egidio Community in 1998. Operating in 27 countries around the world, it allows people from Europe to help children from poor countries, mostly in Africa, Asia and Latin America. But when the war in Ukraine started receiving more attention, the number of children being adopted at a distance in that country saw a marked increase.
In reality it is more like "care at a distance", rather than adoption. Those involved in the program assist the children in need with financial and humanitarian aid that is sent every month. The program is run by volunteers from a room located in the historic part of Rome. Federica Mancinelli is one of the coordinators of the program and tells us about its achievements.
At the beginning we had 100 children, now there are almost 8000 children. But during these years we managed to help almost 15 thousand children. 
People wanting to participate in the program start by contacting the Sant'Egidio community which offers them several adoption at a distance options which may include adopting one child or even a group of children. Donations range from between 15 to 30 euros per month and donors receive twice-yearly reports on how their child is progressing. Frederica Mancinelli is quick to clarify that the program is much more than giving money to support a child in need:
The long distance adoption is very beautiful, because it's not only a help we give, it's like a bridge. People start finding out more about that country, and to understand the situation there.
Donors can choose to keep in contact with the children, and often they do.
Usually they send us their picture, and the letter to know better the child, to show their love to children there. For them it's very important, because in such case children know that there are people, who love them. Therefore, they study better, they feel supported. And it is important not only for the children, but also for the people here in Italy, since they really start putting their heart into other part of the world, which is far from their traditions, and their life. 
Around 500 boys and girls from Ukraine alone have been adopted by European families. Most of them live in state boarding schools and not all of them are orphans – many children are just from poor families that can't support them. Last year in Sloviansk, which is located near the front line, the Sant'Egidio program even managed to rebuild a destroyed center for children with disabilities.
Gabriela Richichi lives near Rome. She says it was news and pictures of the war in Ukraine that made her decide to participate in the program.
I know about difficult situation in Ukraine because of the war. A lot of people there live in difficult conditions. I consider Ukraine as European country, so I would like to help those children who live near to Italy.
Three years ago Gabriela adopted Sergiy. He lives in Kyiv, the capital of Ukraine, and today is 8 years old. Every month he receives 26 EUR from Gabriela – money that is spent on clothes, food and his studies.
I think, it's a good opportunity to help children who live in difficult conditions. It is also a sign of hope for many kids. It shows that their lives can be different, thanks to someone who loves them.
For details on how to participate in the "Adoption at a distance" program, visit the Sant'Egidio Community website, here.