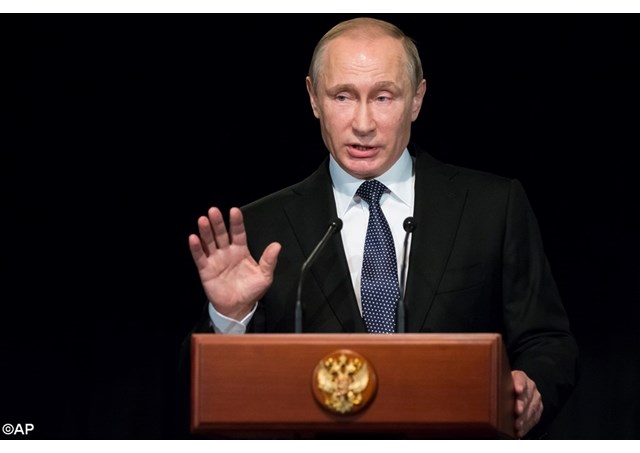 (VATICAN RADIO) Russian President Vladimir Putin signed into law on July 7th a package of so-called anti-terrorism measures. The U.S. Commission on International Religious Freedom strongly condemns these measures and says that, under the guise of confronting terrorism, they would grant authorities sweeping powers to curtail civil liberties, including setting broad restrictions on religious practices that would make it very difficult for religious groups to operate.
Chair of the U.S. Commission, Jesuit Father Thomas Reese, said:  "Neither these measures nor the currently existing anti-extremism law meet international human rights and religious freedom standards." 
To find out more about this new legislation, I spoke with Andrew Boyd, spokesman for Release International, which serves persecuted Christians around the world.
"It is essentially an anti-terrorist catch-all, which some people are calling a 'Big Brother' law because it gives the authorities the right to survey what you do online, so they could monitor your emails and do things like that.
But the impact it's going to have on Christians is really quite extraordinary and very draconian…it will curtail preaching, teaching, and sharing about the Christian faith…It will outlaw the sharing of your faith or the informing of others about your beliefs within the privacy of your own home," Boyd said.
When asked how such an extreme law could emerge in the 21st century, Boyd replied:  "This law is an attempt to prevent radicalization within homes and the spread of extremism," but, he explained, the law essentially equates religion to extremism and religious people to terrorists.
Boyd seemed hopeful that there is action that can be undertaken to overturn this new law, but warned against the "bigger concern" which is the mood in Russia from which a law like this was able to arise. "As always," he said, "the Christians are caught in the middle of this."
In conclusion, Boyd said:  "[This law] is not going to stop the church, and it's not going to stop the faith…it's just going to make it more difficult for those who are living up to their obligation to fulfil Jesus' great commission, and these are the ones we need to pray for and to stand with."