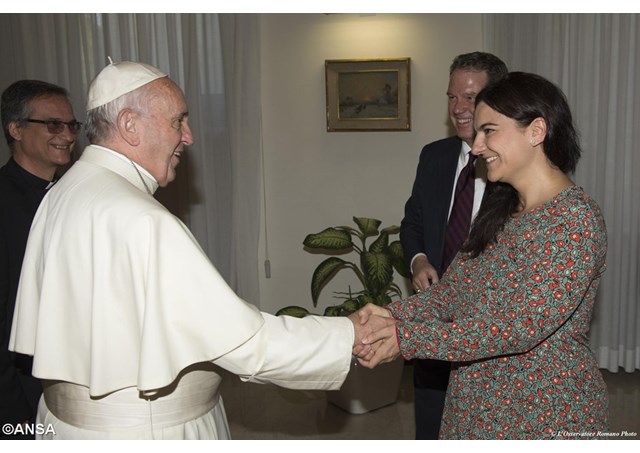 (Vatican Radio) On Monday the announcement was made that Pope Francis had chosen the American journalist, Greg Burke, to take over from Jesuit Father Federico Lombardi as director of the Holy See Press Office on August 1, when Fr Lombardi goes on pension. 
It was also announced that the Spanish journalist, Paloma Garcia Ovejero, will be Burke's deputy, the first woman in history to hold that position. 
Paloma is currently the Vatican correspondent for Spanish broadcaster Cadena Cope and comes to the Press Office as a Vatican expert having covered Vatican news for many years.
Linda Bordoni asked Paloma of her feelings when she heard Pope Francis had chosen her for this important position, but first she asked her to pronounce her full name:
Paloma, Garcia Ovejero was born in Madrid. She says she is proud of her name because 'Paloma' is the name of the Virgin Mary in Madrid and the Feast of "La Virgin Paloma' is celebrated every year on August 15.
She says she is still reeling after having been told last Friday of Pope's decision to choose her for her new position.
"As he often says 'God looked at me and picked me' and that is what I feel" she says.
And pointing out that she is only a journalist with no experience in managing a press office, Paloma agrees that she was chosen most probably for her capacity to convey a message.
She also highlights the fact that the Press Office will in fact be headed by Greg Burke "the best colleague I could ever have imagined to work for".
Paloma says she is working closely with Father Lombardi whom she respects, admires and looks up to: "he is so tender, so smart, and so humble" and to know that he is accompanying the new team at the beginning of their endeavor is a "guarantee".
"And not only that: the prayer. I know he will be praying for us" she says.
She says that she and Burke are stepping into a perfectly functional Press Office – only because Fr Lombardi has finished his term – and not because there is any kind of crisis. So, she says, she hopes they will continue on the path that has already been set out.
"I love going into the Press Office and I would like journalists to be happy to come to us" she says.
Paloma says perhaps, thanks to their own background as journalists, the new team may be able to work on the speed, the rhythm and some minor details to make communication and collaboration even more effective for the needs of the press.
She speaks of her own experience in a family of seven children where gender was not an issue and where everyone chipped in working together for the common good.
Across the board she has been hailed as 'the first woman' to hold this position but Paloma is adamant that for her it is normal as her emphasis is on professionality and the recognition of capacity rather than on gender.
"For me to be a woman (in this position) is not a question of being part of  a revolution, I think this is just a fact. When I came to the Press Office on Monday I realized how many woman there are among the journalists, in the Press Office, etc. (…) it seems obvious to me: women are everywhere… how many times has the Pope said the Church is a woman?" she exclaims.