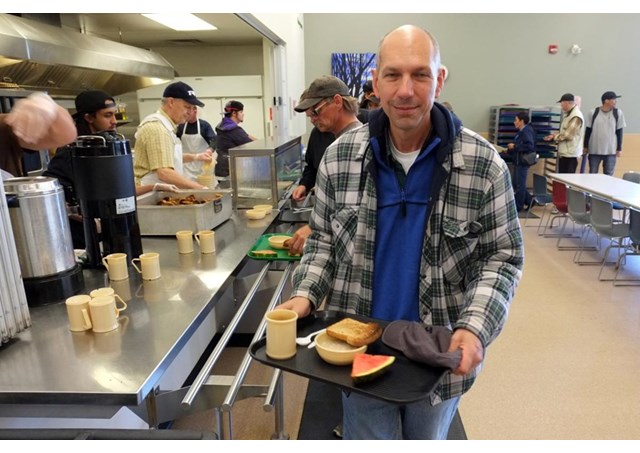 (Vatican Radio) Canadian Archbishop-elect Donald Bolen says social justice, ecumenism and dialogue with indigenous peoples will be among his top pastoral priorities in the archdiocese of Regina. Bolen, currently the bishop of Saskatoon in the central province of Saskatchewan, was named on Monday as archbishop of the provincial capital.
Last month, Bishop Bolen was in the news as he spent a couple of days living out on the streets of Saskatoon to raise awareness and funds for a hospice for the homeless. He described the experience of sitting on a sidewalk, being ignored by people all day, as "a deep learning experience".
Philippa Hitchen spoke to Bishop Bolen to find out more about this initiative and about expectations for his new job as head of the archdiocese of Regina…
Bishop Bolen says the archdiocese covers about the bottom third of the province of Saskatchewan and is a large, rural territory, "about the size of Italy with a population of about half a million". He notes that it's increasingly served by priests from overseas, so although it's "tucked away on the Canadian prairies", it is "increasingly a pluralist society and struggling with the challenges of living that pluralism well".
Ecumenical challenges
Building on his experience here in Rome as an official of the Pontifical Council for Promoting Christian Unity, Bishop Bolen says he'll be looking to "build ecumenical relations wherever possible and appropriate". Noting that there is a covenant between the Anglican and Catholic Churches in Regina, he says other Christians face the same challenge of handing on the faith and giving hope to their communities, so "there is much we can do together".
Social justice and indigenous rights
The archdiocese of Regina also has a strong history of justice outreach, its new archbishop says, adding that he looks forward to helping the Church "serve those on the margins and in the peripheries".
Speaking of the economic and social challenges faced by Canada's indigenous peoples in the province, he says one of his key pastoral priorities will be "learning to walk in solidarity with them and to learn from them and to engage in the kind of dialogue which is still possible today".
Living with the homeless
Finally Bolen talks about his experience of spending 36 hours out on the streets of Saskatoon which he said was simply "dipping your big toe into an ocean of the experience of homelessness" but still served to see the neighbourhood in a new way, to experience peoples' wounds but also the many ways in which they support each other.
Describing the way he and a First Nations leader sat asking for money on the sidewalk, he says "we were quite invisible and that's what we do to people who are vulnerable, threatening, asking something from us". Bishop Bolen concludes by highlighting the way Pope Francis holds together the need to seek justice on a structural level, while never overlooking "the poor and needy in our path". Holding together these two aspects, he says, is "really to embody Catholic Social Teaching in a strong and robust way".